/Film News: We've Added New Comment Forms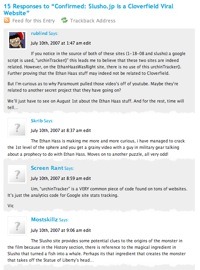 Good News: /Film is growing faster than ever before. This month so far we've gotten more visitors, pageviews and comments than ever before.Bad News: Popularity also leads to a couple negatives. In the last week we have been attacked by more comment spam than ever before. We have a system that protects us from 99.9% of the garbage. But the bots are getting smarter, posting comments that say "cool" or "interesting". For the last couple days we put these keywords into moderation, meaning that any comment containing the flagged keywords would be held for approval. But as you may have guessed, a lot of legit comments use those popular phrases. And we would like for the comment area to continue to function as a live forum discussion.Solution: We've added a box to our comment form which asks you a simple math question (example: what's 2 + 2). If you can't answer the simple math question, the comment will go into moderation. We really wanted to avoid those difficult to read image captcha files that you may have seen on other websites. And we think this is the best solution, at least for now.
I would like to thank all of you for visiting, reading, and contributing to the discussion. Without the readers we are nothing.
Peter Sciretta
/Film Editor