Ratatouille Easter Eggs Revealed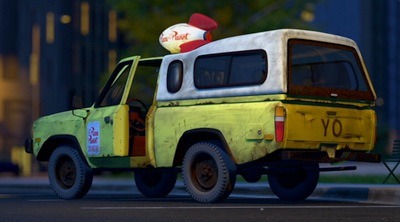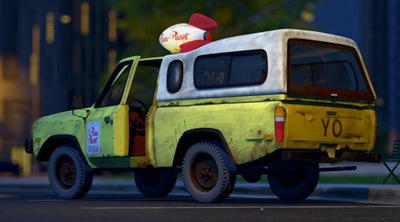 One of the many things I love about Pixar movies is the fact that they pack the screen with so many details. Not just in the story and the characters, but the designs, and backgrounds. It usually takes a few viewings to catch everything. And even then, you are probably missing out on a few of the hidden easter eggs that were left by the geniuses at Pixar.
Some of these hidden treasures have become a tradition for Pixar Animation Studios such as the Pizza Planet Truck which has appeared in nearly every Pixar film since it made its debut in 1995's Toy Story while others are a unique insider's view into the world of the filmmakers of Ratatouille. A few of these gems are listed after the jump, but Disney warns us that there are many more. Guess that means we'll have to see the movie again.
The Pizza Planet Truck, which first made an appearance in Toy Story, has made a cameo in nearly every Pixar film.  For example, the truck can be seen whizzing by when the tank gang is escaping from the dentist's office in Finding Nemo.  In Ratatouille, the infamous Pizza Planet Truck can be seen on a bridge over the Seine during the scene in which Skinner is chasing Remy.
The number A113, which refers to Brad Bird and John Lasseter's former classroom at CalArts, makes an appearance in every Pixar film.  For example, A113 can be seen in Cars on the train that McQueen narrowly misses when he first loses Mack and exits onto Route 66.  A113 also appears in Ratatouille, but you'll have to look carefully for yourself to find it.
Pixar's official "Good Luck Charm," actor John Ratzenberger makes another appearance in Ratatouille as the head waiter, Mustafa.  John's voice has appeared in every Pixar movie including as Hamm the piggy bank in Toy Story and Toy Story 2, PT Flea in A Bug's Life, The Underminer in The Incredibles, and Mack the truck in Cars.
Mabel's living room has several framed photos depicting Mabel and her late husband as members of the French resistance during WWII.  This might explain how Mabel learned to use a shotgun.
The character Bomb Voyage from The Incredibles makes two appearances in Ratatouille. He appears as a mime on the bridge by Notre Dame when Linguini and Colette skate past [see the attached photo].  Bomb Voyage's second appearance is the front-page headline and photo on the newspaper Colette is reading with the Solene Le Claire review.
Restaurant critic Anton Ego's (voice of Peter O'Toole) office is shaped like a coffin to reinforce the idea that a bad review from Ego can be the "death" of a restaurant.
There were 372 graphics created that appear on food labels, boxes, street signs, posters, and businesses. Many of these graphics are named after Ratatouille crew members.
Lasseter Cabernet Sauvignon is named for executive producer John Lasseter
Chateau-Bird Champagne named for director Brad Bird
Chateau-Jessup Pauillac Medoc named for production designer Harley Jessup
Colette rides a "Calahan" branded motorcycle, named after Sharon Calahan, the director of photography/lighting.
The "Bouchiba" brand spaghetti Linguini cooks with in his apartment is named for animator Bolhem Bouchiba.
The "Bradford" mixer in the kitchen is named for producer Brad Lewis
The "Susman" brand olive oil is named for associate producer Galyn Susman.
"Bar Des 7 Chanceux" is a storefront seen on the streets of Paris. It is named for the "Lucky 7 Lounge," a homemade secret lounge inside Pixar Animation Studios.