Sicko Is The Second Highest Documentary Opening Of All Time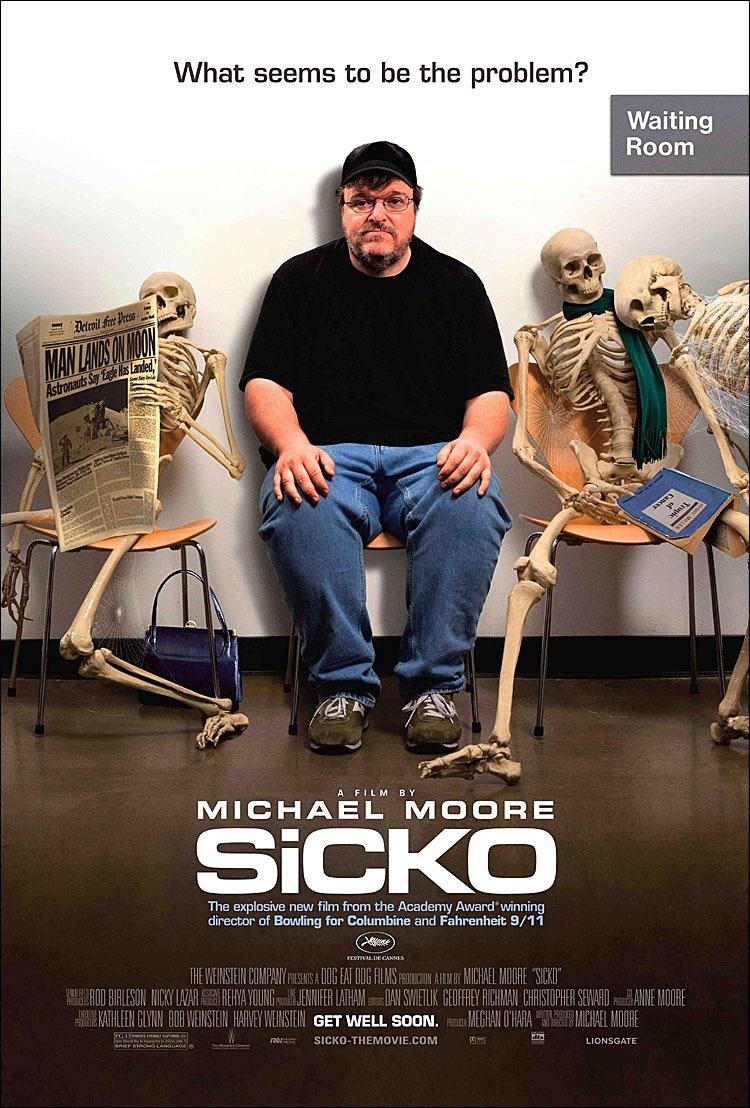 The numbers are in and Michael Moore's Sicko has made an estimated $4.5 million in it's first weekend on just 441 screens. This is well above expectations. The Weinstein Co has plans to expand the release in the coming weeks, beginning with the addition of 200 more screens on Tuesday. And with 93% of moviegoers saying they would strongly recommend the film (according the studio's exit polls), this film could have legs. The film was leaked online weeks before it's theatrical release. This could be the first case where movie piracy helped greatly in the promotion of a Hollywood release. Check out the studio's release after the jump.
Michael Moore's SiCKO Achieves the Second Highest Opening Weekend of All Time for a Documentary and More than Doubles Industry Projections
    NEW YORK, July 1 /PRNewswire/ -- SiCKO, Michael Moore's highly
acclaimed and entertaining expose of the American health care system,
captivated audiences across the country earning $4.5 million on just 441
screens, for the second highest opening weekend of all time for a
documentary, next to Moore's previous film Fahrenheit 9/11. The weekend
grosses more than doubled the projected box office revenues projected by
NRG. The announcement was made today by Harvey Weinstein, co-chairman of
The Weinstein Company.
SiCKO's record breaking opening and robust per screen average of just
over $10,200 placed it among the top 10 films at the box office this
weekend alongside the big-budgeted LIVE FREE OR DIE HARD and RATATOUILLE.
SiCKO achieved the third highest per screen of the weekend.
93% of moviegoers said they would strongly recommend SiCKO after seeing
the film this weekend. To meet the tremendous demand for SiCKO, The
Weinstein Company plans to add the film to 200 additional screens on
Tuesday and will continue to roll-out the documentary to theaters across
the country in the weeks ahead.
SiCKO built off of its success last weekend when it grossed an
incredible $70,000 during its exclusive opening in one theater at AMC Loews
Lincoln Square in NY and sold-out all 43 sneak previews across the country,
bringing its cumulative gross to $4.6 million. SiCKO had an impressive less
than 30% drop this weekend at the AMC Loews Lincoln Square, despite
expanding into additional runs.
Harvey Weinstein said, "Audiences across the country had an outstanding
response to Michael Moore's hilarious and wickedly entertaining film, which
takes on George Bush, the politicians and big business. People who saw the
movie now understand why the Bush Administration didn't want people to see
this movie. We are thrilled that in addition to playing strongly in cities
like NY and Los Angeles, SiCKO played to sold out audiences in mainstream
commercial theaters in markets like Chicago, IL; Dallas, TX; and Atlanta,
GA as well as smaller markets such as cities in Vermont, Hartford, CT;
Sacramento, CA; Austin, TX; and Madison, WI, showing the breadth of
interest among all Americans. We are excited to continue expanding the film
so that more and more people will be able to experience the film."
SiCKO is written, directed and produced by Michael Moore. The film is
produced by Meghan O'Hara and co-produced by Anne Moore. Kathleen Glynn.
Bob Weinstein and Harvey Weinstein serve as executive producers.
ABOUT SiCKO
SiCKO was fully financed by The Weinstein Company and is being
distributed in US theaters and on pay television in the US by Lionsgate
Films.
If you want to stay healthy in America, don't get sick.
Following on the heels of his award winning hit "Fahrenheit 9/11" and
his Oscar(R) winning film "Bowling for Columbine," acclaimed filmmaker
Michael Moore's new documentary sets out to investigate the American
healthcare system. Sticking to his tried-and-true one-man approach, Moore
sheds light on the complicated medical affairs of individuals and local
communities. "SiCKO" promises to be every bit as indicting as Moore's
previous films. For more information, go to: http://www.sicko-themovie.com