Editors Blog: Blame The iPhone!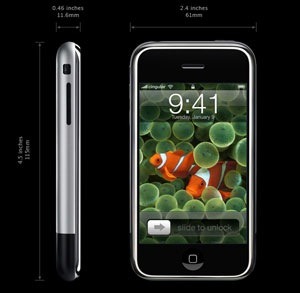 It was Friday afternoon, and I was half way through my Ratatouille review when I started to look at my rss feeds. Not the movie news items, but my tech feeds. For those of you who were stuck in a hole, Friday was iPhone day. What you are about to read is a long explanation of lack of news posts on /Film in the last 48 hours, and a mini review of Apple's new iPhone. And I swear, I intended to work on the site but I got an urge to go check it out.
Obviously my local AT&T store didn't have a demo on display, but at 2:00pm, they did have a healthy line of about 25 people. And let me explain. I live in San Francisco, a big city with a lot of techies. But I chose the AT&T tore in the outer richmond area because it was the furthest away from the downtown area. I was sure the Apple Store was probably mobbed. Heck, Gizmodo was broadcasting live video from the line, and it looked insane.
So within a minute I went from a person who just wanted to check out the iPhone and see what it can do, to a person who thought "If I don't get in that line, I'll never be able to find one." It's the typical America mob line mentality, and yes, I fell for it. So I waited 4 hours in line (the phones went on sale at 6:00pm) and another hour and a half waiting to buy the damn thing.
But, by the time I got up to the front of the line, they had just sold out for the 8gb version. That was the one I wanted. And by wanted, I mean just hours ago I was only curious, but in line I decided that if I were to buy one that would be the smart choice. I mean, you only save $100 on the 4gb one.
But I was in line, a line I waited countless hours in. So I came to the conclusion – I'd just settle for the 4gb version. So while I was leaving the store with my new phone, it hit me – "The Apple Store is open till Midnight tonight." Why would the Apple Store be open that late if they expected to sell out at like 8 or 9pm? So I booked it (on San Francisco's finest public transit) to the Apple Store downtown. There was a minimal line inside, but they had the 8gb model. So that's how I ended up with 2 iPhones on Friday.
And of course I got stuck with that 5 hour activation backup like you've read about. But I will tell you this, it's all worth it. Okay, may-be not. The iPhone is expensive. For me it's a business expense, so I can partly write it off, which makes it more affordable. But pricing aside, this thing rocks. I know this isn't a tech blog, but I thought many of you might be interested, so here are my first thoughts:
I went in most worried about the AT&T/Cingular service. I had read online that the coverage had been much improved in San Francisco since the merger. And so far I have not had a coverage issue, and I've been all over the city. In fact, my verizon windows mobile phone had very little reception in my apartment, and the iPhone has full bars even in my bathroom (an area I wouldn't dare to bring my previous phone, at least not with the door shut). And it's funny because looking on the AT&T coverage map, my apartment is in an area that is marked as moderate (their lowest level of coverage).
My other huge concern was the Edge network. I had heard horror stories about webpages taking minutes to load. I have not yet personally experienced this. To be fair, it seems they did a massive upgrade to the network a couple days before the iPhone launch. But I'm able to pull up most webpages within 30 seconds, which is good enough for me. The YouTube application adjusts to a much lower video quality when you're on the edge network, and even then it takes over a minute to load a video. Although, I'm not sure how often I would do that anyway.
My third concern was the digital keyboard. I imagines myself picking at the screen for minutes just to finish a sentence. I can't stress to you how cool and functional this thing is. It does take a learning curve. You don't use your thumbs (at least at first), you must use your index finger. Also you need to trust the device and just go as fast as you can. Don't worry about each letter. Don't even worry about a mistake. The iPhone fixes 99% of mistakes when you hit the space key to move on to the next word. This is the key to typing on the iPhone.
The screen is amazingly bright. The device is smaller than you would think. I was able to hook my two e-mail accounts up within a minute. I wish that the device was more integrated into gmail and used the conversation e-mail groupings instead of the regular one e-mail per message format.
When you enter a new open WiFi connected area, the iPhone instantly connects. As you would expect, the internet functionality is greatly improved. I'm quite amazed at the video quality that is coming out of some of the YouTube videos while watching on an WiFi network. It appears to me that the quality is better than that on the youtube.com website. I was watching a Transformers trailer in full screen, and saw none of the usual artifacting that you expect from a YouTube video. In fact, it looked as good as the quicktime I Am Legend trailer that I synched onto my device.
Much of what makes this device so cool is just the little touches. For example, allowing you to flick through your contact list. It's something that must be experienced.
The phone also comes with a 2 megapixel camera phone which is pretty nice (much nicer than anything I've had before in a camera). Sure, it doesn't have a flash, that's a common complaint. But let me say this, my last camera had an led flash which did nothing. Sure, if you were within a 1 foot radius of the phone, it sorta helped. But it was useless in 99% of low light situations. I can take a photo on my iPhone, e-mail it, assign it to one of my contacts, or even save it as my wallpaper. The phone even allows me to crop and zoom into the photo so that I can have the exact framing I desire. My one complaint is that the phone doesn't let you text message a friend with a photo. But the iPhone is a software phone which could be updated with this functionality at any time (if enough people complain). Also the phone doesn't take video files, which doesn't concern me too much, but would have been cool. Again, I assume that this is upgradable in the software. I can imagine that Apple will someday add this functionality, and that you will be able to not only e-mail or txt the video to your friends, but also upload it directly to YouTube through your phone. Now that would be cool.
The Google Maps interface is just about as cool as it looked in those television ads. You can view the map interface, or satellite view. You can check traffic on major roads, and even generate turn by turn driving directions. But what makes this a killer app for me is that it replaces 411. I can search for the closest pizza shop, and within two finger clicks be on the phone ready to order.
The iPod interface is very slick. They've added coverflow to your album and song search. I have yet to post a blog post using the phone's version of Safari, but I'm sure that will probably happen sooner rather than later. Overall, I'm extremely happy with this new device.
Peter Sciretta
Editor of /Film