Sicko To Be Projected On Buildings Across The Country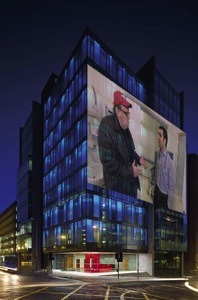 In the wake of the internet leak, The Weinstein Co are doing all they can to promote Sicko. It makes me wonder if they hired new people since the Grindhouse disaster. The latest idea involves the movie trailer for Michael Moore's latest to be projected on buildings across the country on Monday June 25th, beginning at sundown through 1:00am.
The trailer will be projected with full sound and subtitles on the outside of buildings near the headquarters of leading HMOs, insurance companies and hospitals in New York, Los Angeles, San Francisco, Chicago and Oakland. Sounds almost like one of those clever commercials by the anti-tobacco group Truth. Check out a full list of locations after the jump.
    LOS ANGELES
Projection Site: 4343 W. Sunset Blvd.
Locations of interest nearby:
Kaiser Permanente Medical Center
Hollywood Community Hospital
Health Net
Guardian Rehabilitation Hospital
Childrens Hospital Los Angeles
Hollywood Presbyterian Medical Center
    NEW YORK
Projection Site: Times Square, 625 8th Ave. & 40th St.
Locations of interest nearby:
Benefits Quest, Inc.
Empire BlueCross BlueShield
Group Health Inc.
The Guardian
Metropolitan Life Insurance Co.
Health Insurance Plan of Greater New York
Mutual Life Insurance Co. of New York
St. Clare's Family Health Center
St. Vincent's Midtown
Roosevelt Hospital
Beth Israel Hospital
NYU Medical Center
NY Presbyterian Hospital
National Jewish
    SAN FRANCISCO
Projection Site: Intersection of Broadway & Montgomery St.
Locations of interest nearby:
E-surance
Kaiser Permanente
Sutter Health
Saint Francis Memorial Hospital
Chinese Hospital
Ocadian Hospitals & Care Centers
    OAKLAND
Projection Site: 1950 Franklin St.
Locations of interest nearby:
Kaiser Permanente
Kaiser Permanente
Kaiser Center
Kaiser Foundation Hospital
CHICAGO
Projection Site: 525 N. Michigan Ave.
Locations of interest nearby:
Blue Cross/Blue Shield
Wells Fargo
Northwestern Memorial Hospital