SiCKO Sneak Preview Locations Announced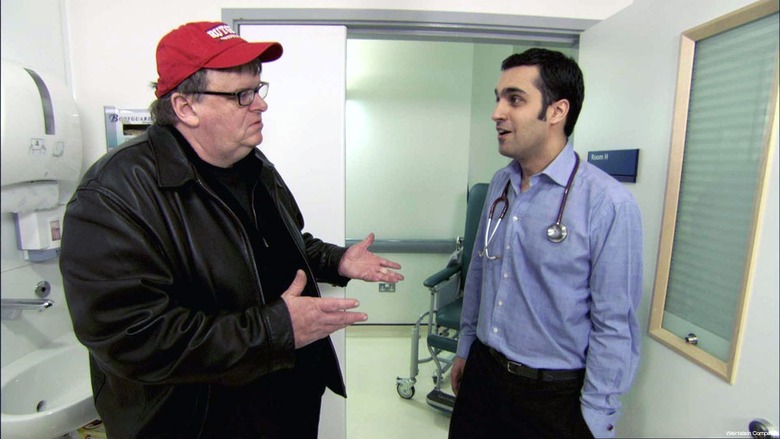 Earlier today, we told you that The Weinstein Co was planning "sneak previews" of Michael Moore's SiCKO this weekend in 27 markets where Moore's films have played well in the past. We now have more information. Weinstein is holding almost 50 screenings total in the 27 markets on Saturday, June 23rd. Check out the list after the jump.
   Los Angeles
Pacific ArcLight Cinemas, Hollywood, CA
AMC Santa Monica 7, Santa Monica, CA
Edwards University Town Center 6, Irvine, CA
Pacific Galleria Stadium 16, Sherman Oaks, CA
    Chicago
AMC River East 21, Chicago, IL
Landmark Century Centre, Chicago, IL
    Philadelphia
Ritz East, Philadelphia, PA
Ritz Voorhees, Voorhees, NJ
San Francisco
Century 9 San Francisco Centre, San Francisco, CA
AMC Bay Street 16, Emeryville, CA
    Boston
LCE Boston Common, Boston, MA
Landmark Kendall Square, Cambridge, MA
NA Showcase Cinemas Randolph, Randolph, MA
    Dallas
Angelika Film Center & Café, Dallas, TX
    Washington D.C.
Landmark Bethesda Row Cinema, Bethesda, MD
AMC LCE Georgetown Theatre, Washington, DC
    Detroit
Uptown Birmingham 8, Birmingham, MI
    Atlanta
Landmark Midtown Cinema 8, Atlanta, GA
    Houston
Edwards Greenway Palace Stadium 24, Houston, TX
    Seattle – Tacoma
AMC Pacific Place Theatre 11, Seattle, WA
    Tampa – St. Petersburg
Regal Hollywood 20-Sarasota, Sarasota, FL
Minneapolis – St. Paul
Landmark Lagoon Theater, Minneapolis, MN
    Cleveland
Cedar Lee 6, Cleveland Heights, OH
    Miami
AMC Sunset 24 Theatres, South Miami, FL
Regal South Beach 18, Miami Beach, FL
    Denver
Landmark Mayan 3, Denver, CO
    Phoenix
Harkins Cine Capri/North Scottsdale 101, Scottsdale, AZ
    Sacramento
Century Stadium 14, Sacramento, CA
Pittsburgh
AMC LCE Waterfront Theatre, West Homestead, PA
St. Louis
Landmark Plaza Frontenac 6, Frontenac, MO
    Portland, OR
Regal Fox Tower 10, Portland, OR
Baltimore
Muvico Egyptian 24, Hanover, MD
    San Diego
AMC Mission Valley 20, San Diego, CA
Landmark La Jolla Village Cinemas 4, La Jolla, CA
    Indianapolis
Landmark Keystone Art Cinema, Indianapolis, IN
    Kansas City
AMC Studio 27, Olathe         KS
    Milwaukee
Landmark Oriental 3, Milwaukee, WI
Columbus, OH
AMC Lennox Town Center 24, Columbus, OH
Albany
Regal Crossgates Stadium 18, Guilderland, NY
Albuquerque
Century Rio 24-Albuquerque, Albuquerque, NM
    Las Vegas
Century Orleans 18, Las Vegas, NV
Austin
Regal Arbor Cinemas @ Great Hills, Austin, TX
Flint
NCG Trillium Cinema, Grand Blanc, MI