Jackie Earle Haley Offered Watchmen Role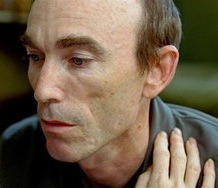 Rumor has it that Oscar nominated actor Jackie Earle Haley has been offered the part of Rorschach in Zack Snyder's big screen adaptation of Alan Moore's graphic novel Watchmen. When Paul Greengrass was attached to direct the film, actor Paddy Considine was signed to play the part of the masked vigilante. But now Considine claims on his official fan site that Warner Bros has made Haley an offer. Haley, who is probably best known for his award nominated performance in Todd Field's Little Children, would be perfect for the role.
Wearing the inkblot-like mask he considers his true face, Rorschach (real name Walter Kovacs) continued his one-man battle against crime long after superheroes became both detested and illegal. Rorschach believes in moral absolutism and objectivism, where good and evil are clearly defined and evil must be violently punished.
Filming is scheduled to begin September in Vancouver.