Two New The Bourne Ultimatum Movie Posters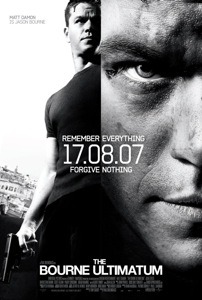 The IMPAwards has released two new International movie posters for The Bourne Ultimatum. The poster has the subtitle "Remember Everything Forgive Nothing" and advertises "Matt Damon is Jason Bourne". Damon has said that this will probably be his last movie as Jason Bourne. The close-up of Matt Damon's bloody, scratched and dirty face is pretty creepy.
In Ultimatum, Bourne races to discover the final mysteries of his past while a government agent tries to track him down after a shootout in Moscow. Check out the new posters in full size after the jump.
The Bourne Ultimatum hits theaters in the U.S. on August 3rd 2007.