Video: Michael Moore Debuts New Sicko Footage On Oprah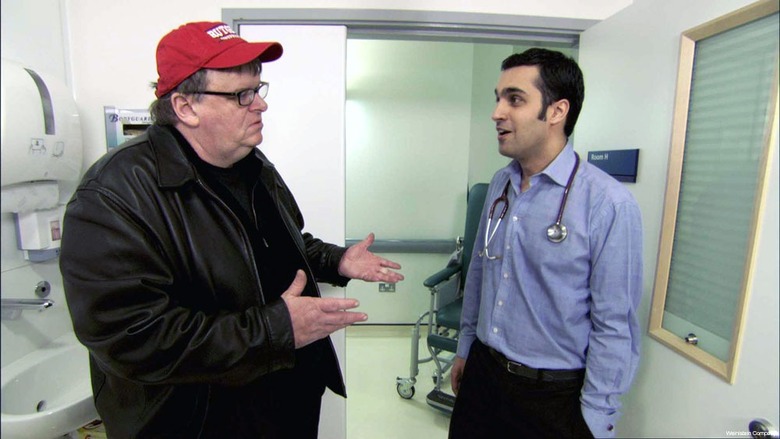 Michael Moore appeared on Oprah  Tuesday afternoon to promote Sicko. Not only do we get a sit-down interview with the director, but we also get a glimpse at a couple new video clips from Sicko. If you missed it, the video clips (18 minutes) have turned up on GooTube, and we have them for you after the jump. I would recommend that anyone not interested in seeing the film to check out the clips. Sicko hits theaters on June 29th 2007.
The first clip features what appears to be the opening of the film. Moore talks about the profit motives of the insurance companies, the non-partisan response to the film thus far, not being able to get insurance for the documentary, and the defensive preparation from the insurance companies. We also get to see another clip from the film which features a former medical director in the healthcare field who testified about her duties to find medical loopholes to turn down claims. Moore makes his pitch to eliminate profit motivated medical insurance, and talks about where America ranks in the world for healthcare.
[youtube]ApGM6_va_4w[/youtube]
The second clip begins with Moore talking about the incredible reaction he has received so far on this film. Oprah called it a "more thoughtful film", and Moore agreed that it's not a partisan issue movie. The next clip shows a clip from the segment of the film which concentrates on the 9/11 rescue workers who have respiratory illness, but aren't being helped by the US government. Moore takes a boat filled with sick rescue-workers to Guantanamo Bay, the only place on US soil with free healthcare. Moore tells Oprah that it is madness that they give better healthcare to the people responsible for 9/11 than the people who were heroes and helped. He then told Oprah about the problems with the US Government. They end the discussion saying that we need to make the country more about We than more about Me.
[youtube]Icor2ILQtLw[/youtube]