Video: Behind The Scenes Of The Golden Compass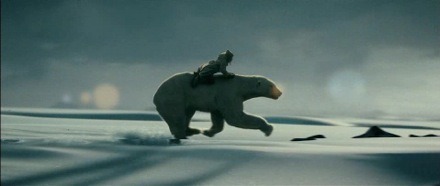 HisDarkMaterials.org has posted a new behind the scenes package for The Golden Compass (Movie Trailer, Poster). The five minute video is not a traditional EPK featurette, but instead a compilation of behind the scenes footage and film clips. They show a bunch of comparisons between green screen and final effects footage. I'm really starting to get pumped for this movie. Check out the footage after the jump.
[youtube]0NOOXHLpdww[/youtube]
Based on Philip Pullman's bestselling and award-winning novel, His Dark Materials: The Golden Compass is New Line's next huge $150 million fantasy epic adaptation. The story follows the coming of age of Lyra Belacqua and Will Parry, as they "wander through a multiverse and a backdrop of epic events." The books were marketed to children, but it has garnered a large adult readership. The story features fantasy elements such as gypsies, witches, and armoured bears. Written and directed by Chris Weitz, His Dark Materials: The Golden Compass stars Nicole Kidman, Daniel Craig, Sam Elliott, Ian McShane and Dakota Blue Richards. The movie and book are the first in a trilogy.
The Golden Compass hits theaters on December 7th 2007.