Howard Stern Turns Down Transformers Movie Role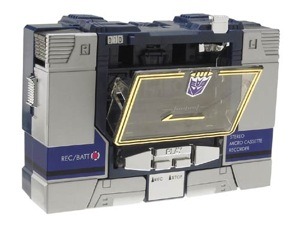 Correction: The Transformer in question is actually Frenzy and not Soundwave.
Howard Stern was asked to briefly voice Soundwave Frenzy in the upcoming Transformers movie. For those of you who don't know, Soundwave Frenzy takes the form of small consumer electronic devices. At one point in the new movie, the Transformer will be disguised as a radio, and according to Stern, Dreamworks asked the king of all media to lend his voice.
"They contracted me like a week ago. My agent said they wanted my voice on the radio," Stern revealed on Monday morning's radio show. "And the letter sucks me in, it goes [paraphrasing]: We feel you represent America's icon of radio, and when that radio turns on just for a couple seconds, the audience gets to hear your voice. The crowd will go insane. And I'm like, YEAH! Then my agent gets a hold of me. It's almost like he shakes me up and smacks me."
So it looks like no Transformers for Stern.
"I said to him [agent]: This movie, The Transformers, it could be a really big movie. And he goes 'So, it won't be because of you, because your f'n voice is on the radio," Stern said. "I thought it might be kinda cool but my agent said 'you don't want to be in the movie as an f'n voice on the radio. And I said, you know, you're right."
My question is: Why is Dreamworks/Paramount contacting actors to do voice work in late May for a movie which hits theaters in early July? Is the film that far from complete?