The Dark Knight Shoots For IMAX: Is This The Future Of Cinema?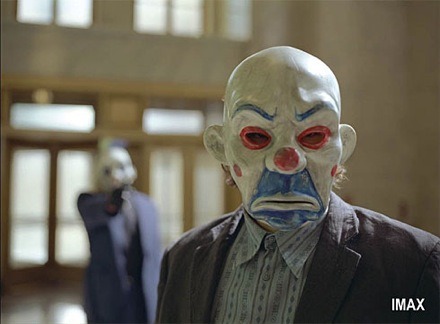 Christopher Nolan plans to film four action sequences from The Dark Knight with IMAX cameras. While it's usual for 35mm shot films to be up-converted for an IMAX presentation, this is a first. The final product in the IMAX version will result in a better product. The aspect ration will change to the larger IMAX ratio size during the select scenes. Warner Bros. president of domestic distribution Dan Fellman says that the sequences "would jump off screens ... and give patrons an experience they haven't seen in 35mm presentations."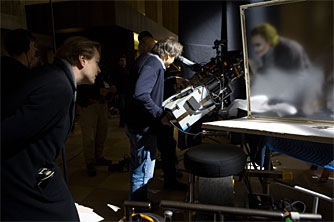 One of the sequences features a prologue of sorts that features what we assume to be the origins of The Joker as a bank robber. You can see in the photo above thanks to USA Today, The Joker pre-face accident and make-up, who appears to be robbing a Gotham City Bank. The sequence was shot last month in Chicago after many months of testing.
Nolan said, "In continuing the story of such a great icon, I'm thrilled to be able to expand the scope of the film, not just in terms of its story, but in giving Batman and the Joker the largest possible canvas on which to face off."
In a day where digital 3D is being heralded as the next big thing, this is a huge step in an entirely different direction. May-be 3D isn't the future, may-be it's a value added cinematic experience. The IMAX 70mm film format offers a much higher resolution than the traditional 35mm academy format. IMAX offers a resolution comparable to about 10000 x 7000 pixels, or more than 10 times that of normal film. My question is: Why make this a gimmick? Why not film the whole movie in 70mm and down-convert for the normal theatrical screenings? Also, it seems to me that we would want the best possible picture quality for future home video releases. And before I start getting e-mails: Yes, I know that the IMAX cameras are bulky which makes for more difficult shooting. But I'm sure this is an area which can be improved on. And how hard could it be? They got one of those cameras on the cramped Space Station with seemingly no problems.
And shooting in the format is difficult. IMAX film, which is 10 times the size of standard film stock, is costly and must be shot using bulky cameras.