Indiana Jones 4 To Film In New Haven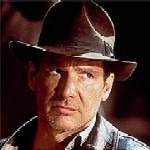 So far not much is known about Indiana Jones 4. So when a shooting location is leaked, that all of a sudden becomes huge news. We now know that the production will shoot in New Haven Connecticut next month.
According to The New Haven Register, Steven Spielberg's crew will be filming a car chase on Chapel between College and High streets for the fourth installment of Indiana Jones. Several merchants who will redress their locations for the film have also confirmed that the film will be set in the 1950s.