Release Date Change: Disney Moves Pirates Of The Caribbean: At World's End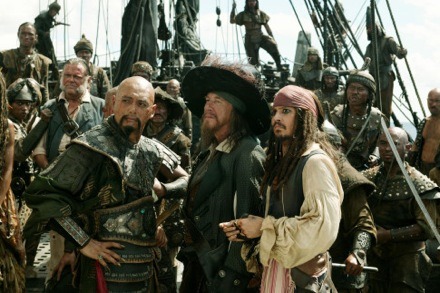 Our Disney sources have confirmed with us that Pirates of the Caribbean: At World's End has been moved up for a Thursday night release. The film was originally scheduled to hit theaters on Friday, May 25th (on Midnight in select market theaters) but will now be released one night earlier. Screenings will begin at 8:00pm on May 24th. Pirates will now have more than four days to make a huge slam at the box office (considering Monday is Memorial Day).
I question the timing of this decision, coming off of the record breaking Spider-Man 3 weekend. Will Disney try to sneak the Thursday night numbers into it's Friday box office take? Was this decision made to ensure another record breaking performance? As you probably know, Pirates of the Caribbean: Dead Man's Chest was the previous weekend record holder before Sony's Spidey shot their webs. My sources tell me the booking was made over a week ago, so there is no truth to this conspiracy theory.
Either way it's a very smart move from Disney. It seems like the opening weekend is everything now-a-days. So much so that the studios are doing all they can to extend the weekend into a longer period of time (in this case 4 1/3 days). I'm surprised they don't go balls to the wall and release the film on Wednesday night.
DreamWorks is also planning an early release for Shrek the Third, which will hit most theaters on Thursday, May 17th at 10:00pm.