Friday Afternoon Report: Spider-Man 3 On Track To Make $120 Million PLUS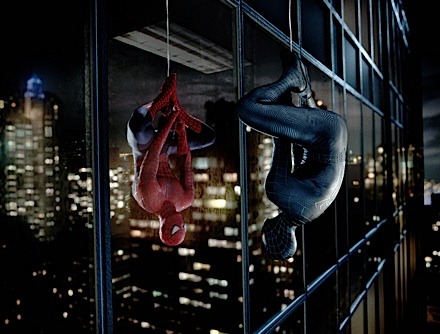 Early word is that Spider-Man 3 is on track to even beat Spider-Man 1's $114.8 record setting opening weekend box office. Af of late afternoon, the film is on track to take in around $50 million on Friday alone. As we reported earlier, over 300 of the 1,000 midnight screenings on the film were completely sold out on Thursday night. Industry analysts have been predicting an opening weekend gross somewhere between $120 and $140 million. So as of Friday afternoon, the film is on track to meet expectations. Pirates of the Caribbean: Dead Man's Chest holds the record for biggest opening weekend of all time, with $135.6 million. As of right now, it does not appear that Spider-Man 3 will beat that number (but let me remind you, nobody expected it to).
Spider-Man 1's final domestic take was $403.7 million ($821.7 worldwide) and Spider-Man 2 ended with around $373.5 million ($783.8 worldwide). If this was any other summer or release date, I would now predict that the film would go on to make $450 domestically, and $900 internationally. However, some analysts think that Spidey could dip in the following weeks due to the intense threequel competition.
We'll report back later tonight or early tomorrow morning with more accurate Friday numbers.