Chuck Palahniuk's Choke Gets A Greenlight, Sam Rockwell To Star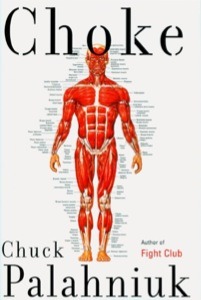 Chuck Palahniuk is the biggest untapped resource producing books today. His breakthrough novel Fight Club, was made into one of the most brilliant films of the last 10 years. Yet none of his other novels have gone into production since, Until now.
According to the author's official fansite (a great site about not just Chuck but also authors and writing), Choke has finally been given the greenlight. Sam Rockwell is set to star, and first-timer Clark Gregg will be directing.
Gregg is an actor who has done a lot of bit parts in television shows (The West Wing, The New Adventures of Old Christine) and movies (Hoot, In the Land of Women) over the last 20 years. He wrote What Lies Beneath for director Robert Zemeckis. Gregg adapted Choke into screenplay form and has been championing the project for several years now. According to the author, the mom is most likely Glenn Close, Annette Benning or Juliana Moore.
I'm glad to see that another one of his books has finally been given a chance. Although, I wish it were Survivor – which was set to go into production before, well, that day. You see, Survivor's main character is a terrorist who hijacks a plane and... yeah, that project is way dead. But it's definitely my favorite Palahniuk novel (underneath Fight Club, of course).
If you never want to read Choke, than don't pick it up in a book store and start reading the first chapter. It might very well be the best opening chapter in terms of sucking you in.
Choke follows Victor Mancini and his friend Denny through a few months of their lives with frequent flashbacks to the days when Victor was a child. Victor grew up while going from one foster home to another. Victor's mother was found to be unfit to raise Victor. Several times throughout his childhood his mother would kidnap him from his foster parents. They would eventually be caught and he would again be remanded over to the government child welfare agency.
In the present day setting of the book, Victor is now a man in his mid-twenties who left medical school in order to find work to support his mother who is now in a nursing home. He cannot afford the care that his mother is receiving so he resorts to being a con man. His "con" is to go to restaurants and midway through his meal, he forces himself to choke on his food. When some good Samaritan comes over to perform the Heimlich maneuver, he spits the food out and thanks them for saving his life. He keeps a detailed list of everyone who saves him and sends them frequent letters about fictional bills he is unable to pay. The people feel so sorry for him that they give him money, send him cards and letters asking about him how he's doing, and even continue to send him money to help him with the bills.
We reported last year that Universal has acquired the rights to the book, so one must assume they are the studio moving the film into production.