300 Nominated For Best Movie At The 2007 MTV Movie Awards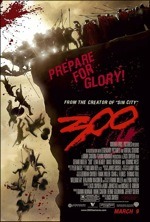 MTV has revealed the nominees for the 2007 MTV Movie Awards. Only at the MTV Awards can you see 300 and Blades of Glory nominated for best picture or Little Man getting nominated for, ANYTHING.  I'm sure Transformers will win The Best Summer Movie You Haven't Seen Yet. Let's hope that Borat's Sacha Baron Cohen vs. Ken Davitian wins for Best Fight.
Check out the full list after the jump.
2007 MTV MOVIE AWARDS
Sunday, June 3rd at 8PM/7c
Nominees:BEST MOVIE
300 (Warner Bros. Pictures)
Blades of Glory (Paramount Pictures)
Borat (20th Century Fox)
Little Miss Sunshine (Fox Searchlight)
Pirates of the Caribbean: Dead Man's Chest (Disney)
BEST PERFORMANCE
Gerard Butler   300
Johnny Depp   Pirates of the Caribbean: Dead Man's Chest
Jennifer Hudson   Dreamgirls
Keira Knightley   Pirates of the Caribbean: Dead Man's Chest
Beyoncé Knowles   Dreamgirls
Will Smith   The Pursuit of Happyness
BREAKTHROUGH PERFORMANCE
Emily Blunt   The Devil Wears Prada
Abigail Breslin   Little Miss Sunshine
Lena Headey   300
Columbus Short   Stomp the Yard
Jaden Smith   The Pursuit of Happyness
Justin Timberlake   Alpha Dog
BEST COMEDIC PERFORMANCE
Emily Blunt    The Devil Wears Prada
Sacha Baron Cohen    Borat
Will Ferrell    Blades of Glory
Adam Sandler    Click
Ben Stiller    Night at the Museum
BEST KISS
Cameron Diaz & Jude Law    The Holiday
Will Ferrell & Sacha Baron Cohen    Talladega Nights
Columbus Short & Meagan Good    Stomp the Yard
Mark Wahlberg & Elizabeth Banks    Invincible
Marlon Wayans & Brittany Daniel    Little Man
BEST VILLAIN
Tobin Bell    Saw III
Jack Nicholson    The Departed
Bill Nighy    Pirates of the Caribbean: Dead Man's Chest
Rodrigo Santoro    300
Meryl Streep    The Devil Wears Prada
BEST FIGHT
Jack Black & Hector Jimenez vs. Los Duendes    Nacho Libre
Gerard Butler vs. "The Uber Immortal"Â Â Â  300
Sacha Baron Cohen vs. Ken Davitian    Borat
Will Ferrell vs. Jon Heder    Blades of Glory
Uma Thurman vs. Anna Faris    My Super Ex-Girlfriend
BEST SUMMER MOVIE YOU HAVEN'T SEEN YET
Evan Almighty (Universal Pictures)
Fantastic Four: Rise of the Silver Surfer (20th Century Fox)
Hairspray (New Line Cinema)
Harry Potter & the Order of the Phoenix (Warner Bros. Pictures)
Rush Hour 3 (New Line Cinema)
Transformers (Paramount Pictures)