Sarah Silverman To Host The 2007 MTV Movie Awards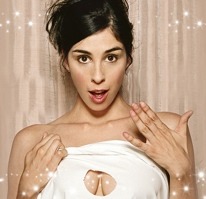 I, like everyone who was a children of the 1980's, watched the MTV Movie Awards since the beginning. But somewhere around my late teenage years I stopped watching. Not because I had grown out of that demographic, or was uninterested, but instead because I realized the show was taped. With the internet boom, the award show results usually appeared on the internet days before the show aired. I somehow felt cheated by a show that marketed itself on it's spontaneous energy. Well, today I have three bits of good news.
1. The 16th Annual MTV Movie Awards will be broadcast live from the Gibson Theater in Universal City, California on Sunday, June 3, 2007.
2. To help capture the reality of the live show, Emmy Award® winning producer Mark Burnett has been hired.
And the best one is for last:
3. Sarah Silverman is hosting! That's right, the MTV Movie Awards might be funny again this year.
I can't wait. I'm actually marking this one on the calendar (err, the iCal. Calendars are so 20th century).