Tribeca Movie Review: Times And Winds
The following movie was reviewed at the 2007 Tribeca Film Festival: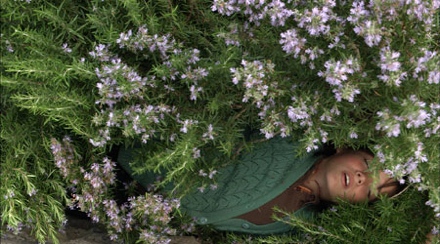 Times and Winds
World Narrative Competition
2006, Turkey
Reha Erdem
An exquisitely paced film, Times and Winds focuses on the daily lives of three preteens stuck in a mountain village in Turkey. Reha Erdem, of A Run For Money (1999) and What is a Human Anyway? (2004) fame, paints a magnificent story of longing and deep emotion as we travel along a mythic landscape following Ömer, Yakup, and Yildiz through their coming of age moments.
The three children in the film must cope with their distinct circumstances. Yakup, a boy, and Yildiz, a girl, are cousins whose fathers work together on the fields with their grandfather. While Yakup and Yildiz have to deal with their fathers, it is interesting to see how the fathers interact with the grandfather, who is overbearing and irritable. Yakup also faces love and jealousy, when he develops a crush on his schoolteacher and stands by as his father flirts with her and spies on her. He is angry and conflicted, not knowing how to approach the situation.
Ömer is the eldest of two sons, and is always being told how much smarter his sibling is. He witnesses the greater amount of love given to his younger brother and resents the whole family for this. His father, who is sick with the flu throughout the film, clashes heads with him constantly. Ömer wishes death upon his father and conspires to get him even sicker.
And then there is Yildiz, the most even-headed of the three who spends her days caring for her baby brother and who almost passes unrecognized by her parents. She is in the shadow of the newborn baby, yet deals with it in silence. We follow her walking down the pebbled paths of her village, as she goes about her chores.
A splendid picture on the lives of these children, the film is ultimately about time and the rhythms of the time they are stuck in. The stunning photography emanates rich hues and focused balance throughout. Erdem gives the characters space to breathe, move, and exist. We catch glimpses of the children lying asleep, almost lifeless, in beds of flowers, heaps of hay, and mounds of rubble. With subtle stylization, Erdem splits these characters lives into five different times of day. Morning, Noon, Afternoon, Evening, and Night divide the children's sense of life and the specific emotions they are feeling at that particular moment. They are unadorned and allowed to just be, as they face the worries of growing up and maturing.
A superb presentation that is very personal and intimate, and yet, by some means, becomes universally resonant. The film moves ethereally, charting a course throughout the lives of Ömer, Yildiz, and Yakup. In a way, it leaves one instantly speechless and satisfied upon viewing. Not to be missed./Film Rating: 10 out of 10