Gary Rydstrom To Direct Pixar Feature Film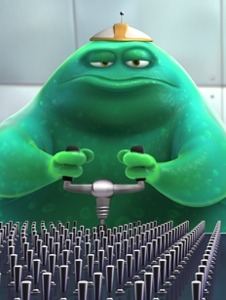 Animation World Magazine has confirmed rumors that Academy Award winning director Gary Rydstrom is currently directing a feature length animated film at Pixar.
Before being given the greenlight on his first feature, Gary pitched three ideas for a short film to Pixar, and Lifted was accepted. Rydstrom received his fourteenth Academy Award nomination for directing the short film, which will be released theatrically with Pixar's Ratatouille. The plot follows Stu, an alien teen taking his abduction exam, must snatch a sleeping farmer under the critical supervision of his instructor, Mr. B. A photo from the project can be seen on the right.
UpcomingPixar claims that Jim Capobianco, story supervisor of Ratatouille and Kiel Murray, writer for Cars, are also attached to the new project.
Rydstrom is an award winning sound designer who began his career at Skywalker Sound in 1983. Gary worked on Indiana Jones and the Temple of Doom, Spaceballs, Backdraft, Terminator 2: Judgement Day, Jurassic Park, Titanic, Saving Private Ryan, Minority Report and Finding Nemo.