Jessica Biel Cast In The Incredible Hulk?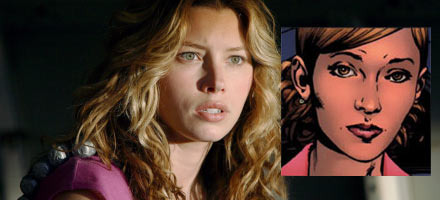 Rumor has it that Jessica Biel (Blade: Trinity) has signed on to play Betty Ross in the new re-imagining of The Incredible Hulk starring Edward Norton. We are unable to confirm this news bit which has begun to spread across the internet. The Spider-Man 3 junket happened this weekend in Los Angeles, and one can only assume that this rumor has an origin there, as producer Avi Arad was on location. We will update you on the details when we get a confirmation or denial.
The character of Betty Ross first met Bruce Banner, while he was head scientist on her father's top-secret weapon project, that transformed Banner into The Hulk. Banner tried to keep his condition secret from Betty, which only served to alienate them. Ross was played by Jennifer Connelly in the failed Ang Lee adaptation of The Hulk.
Norton and Biel worked together in the 2006 magical period drama The Illusionist.
Transporter director Louis Leterrier is at the helm. The movie will be "re-interpreted to be closer to the comic book" than Ang Lee's 2003 Hulk. Leterrier has said that in the film, he planned to show Bruce Banner's struggle with the monster within him, describing it as Marvel's horror movie, "Frankenstein meets Jekyll and Hyde with a little bit of Edward Scissorhands." Avi Arad describes the film as "more of a love story, it's more of a heroic Hulk. It's a kind of Hulk we loved in the show, so it's kind of more influenced by the show than anything else. It's very human, very touching, and huge action." Zak Penn (X2, Elektra, X-Men: The Last Stand, Last Action Hero) wrote the script.
Marvel has announced a June 13th 2008 release.