Kate Beckinsale Cast In Barbarella Remake? We Don't Care!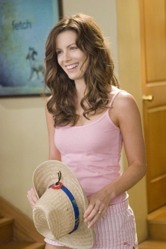 Not only do we completely not care about Kate Beckinsale potential casting in the remake of Barbarella, but we're completely uninterested in the whole project. But as it turns out, this is the slowest news day in a while, so we need to report something.
The chick flick turned bad genre movie actress is rumored to be in consideration for the lead role, according to the Daily Express. No director is attached. Casino Royale screenwriters Neal Purvis and Robert Wade are penning the remake. But we still don't care. Someone, please wake us up when something interesting happens.