Contest: Payback - The Director's Cut On DVD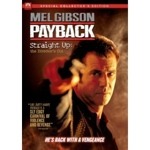 Payback: The Director's Cut hit DVD store shelves on April 10th, and we have a copy for one lucky /Film reader. All you need to enter is to e-mail us with the reason why you should win. On April 17th we will e-mail the winner with the best answer. More information on the release can be found after the jump.
Mel Gibson portrays Porter, a career criminal bent on revenge after his partners in a street heist pump metal into him and take off with his $70,000 cut. Bad move, thugs. Because if you plan to double-cross Porter, you'd better make sure he's dead. Porter resurfaces, wading into a lurid urban underworld of syndicate kingpins, cops on the take, sniveling informants and deadly gangs. Porter wants his money back. And the way he sets out to get is assures that, from beginning to heartpounding end, PAYBACK pays off big.