Edward Norton Cast As The Incredible Hulk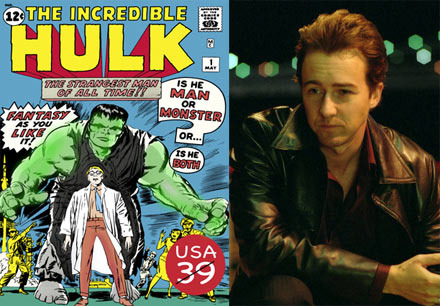 Fight Club star Edward Norton has been cast as nuclear physicist Dr. Robert Bruce Banner in The Incredible Hulk remake/do-over.
Rumblings of Norton's casting first appeared on the IMDb message baords five days ago, but no one believed it. And why should they have? It didn't seem legit at all. The concept of Edward Norton playing The Hulk is crazy. But if you think about it, Norton is perfect for the role of Bruce Banner. And five days later AICN and Variety have confirmed the story as fact.
Banner, an emotionally-suppressed genius, rates amongst Reed Richards and Tony Stark as one of the greatest minds in the Marvel Universe. As you probably know, Banner was caught in the blast of a gamma bomb he created, which transformed into the Hulk, a raging monster who has tremendous power and strength.
Transporter director Louis Leterrier is at the helm. The movie will be "re-interpreted to be closer to the comic book" than Ang Lee's 2003 Hulk. Leterrier has said that in the film, he planned to show Bruce Banner's struggle with the monster within him, describing it as Marvel's horror movie, "Frankenstein meets Jekyll and Hyde with a little bit of Edward Scissorhands." Zak Penn (X2, Elektra, X-Men: The Last Stand, Last Action Hero) wrote the script.
Marvel has announced a June 13th 2008 release.