Paul McGuigan's Spider-Man Music Video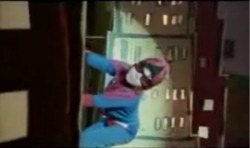 We just posted a story about Julie Taymor's upcoming Spider-Man muscial in New York City. We had some fun when we found videos of the Universal Studios Hollywood production of Spider-Man Rocks on YouTube. But now we've found something even better thanks to our friends at FilmIck.
The Snow Patrol's new music video for the song Signal Fire, from the Spider-Man 3 soundtrack, is now available on MySpace. The video by Paul McGuigan (Wicker Park, Lucky Number Slevin), features a elementary school production of a Spider-Man musical. You know, little kids dressed as Spider-Man, Doctor Oct and Green Goblin on a school auditorium stage, reenacting some of the famous moments from Spider-Man 1 and 2. Check it out below.