Julie Taymor To Direct Spider-Man Musical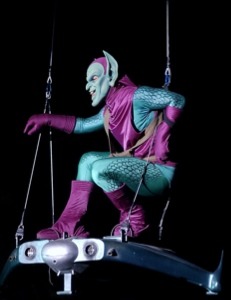 Academy Award nominated director Julie Taymor (Frida, Titus, Across the Universe) will be directing a Spider-Man Musical. That's right, a musical. According to SHH, the New York City theater production will feature the music and lyrics of Bono and Edge from U2. Tell me the date, and I'll be there.
Taymor received the 1998 Tony Award for Best Director of a Musical for her work on The Lion King, becoming the first woman in Tony Award history to receive the prize. The production is currently casting, with rehearsals set to begin on July 2nd.
Universal Studios Hollywood has an unrelated Spider-Man musical titled Spider-Man Rocks! Rock-n-Roll Musical (Green Goblin pictured above, photo credit: Ron Reznick). I found videos from the aforementioned show on YouTube. Check them out below followed by the official casting notice. Let's hope Julie and Bono can produce something better (at least with some better costumes and music at least).
[youtube]3MGihLE4lM0[/youtube]
[youtube]Bbh2WWnkuQs[/youtube]
[youtube]kmQu5aydny8[/youtube]
[youtube]Neguf_c7jGA[/youtube]
[youtube]DzYhIQub2UY[/youtube]
SPIDER-MAN
Theatre
MUSICAL
AEA 29-HOUR REHEARSED READING
Director: Julie Taymor
Music and Lyrics: Bono and The Edge of U2
Musical Supervisor: Teese Gohl
Book: Julie Taymor and Glen Berger
Producer: Hello Entertainment/David Garfinkle, Martin McCallum, Marvel Entertainment
Casting Director: Telsey + Company
Rehearsals: Begin 7/2/07 in NYC
Reading: 7/12/07 and 7/13/07
PLEASE RUSH ALL PHOTOS AND RESUMES ASAP AND SUBMIT ELECTRONICALLY TO: TELSEY + COMPANY
311 WEST 43RD STREET, 10TH FLOOR
NEW YORK, NY 10036
ATTN: SPIDER-MAN
SEEKING:
[PETER PARKER] Male, late teens to early 20's, Caucasian. A bullied, high school senior in Queens passionate about all things Science, and infatuated with Mary Jane Watson to the point of near-paralysis. Earnest, ethical, and frequently relying on his wry, self-effacing sense of humor to get out of scrapes, he was bitten by a genetically altered spider in Norman Osborn's Lab soon before graduating and becomes after trials and tragedy a crime-fighting superhero. He struggles daily to balance the responsibilities his dual identity demands, as well as with the constant temptation to exploit the powers he has inherited. The burden of being a superhero, his guilt for his role in his uncle?s death, as well as his debilitating crush on Mary Jane all weigh heavily upon him. Great pop/rock voice.
[MARY JANE] Female, late teens to early 20s, Caucasian. Sweet, intelligent, affectionate, compassionate, with a well-developed, wry sense of humor. Her power, her luminosity, arises from the unadorned simplicity and groundedness of her presence. She is desperate to get out of Queens, to get away from her abusive father, and make a name for herself as an actress. Great pop/rock voice.
[ARACHNE] Female, 20-35 years old, any ethnicity. A beautiful, boastful young woman turned into a spider for her hubris and lack of respect for the gods. She subsequently appears to Peter Parker and the audience as in turn a powerful spider-woman who comes from another time to inspire Peter; an otherworldly lover; a bride; a terrifying (and sexy) dark goddess of vengeance; a dance partner in a charged and violent spiders dance of death; and, finally, a lonely, fragile young woman. Possesses an ethereal, unique, gorgeous singing voice. Strong Celtic, Balkan style, e.g., Sinead O'Connor. Outside the box ideas are welcomed. Could be someone from the music industry.
[NORMAN OSBORN] Male, 50s, Southern. A brilliant scientist deeply devoted to his wife Emily and to the potential of science to improve the world. Always thinking, always tinkering, always talking, he is a dynamo, a folksy whirlwind of energy cut from the same cloth as Ted Turner. An experiment gone wrong mutates him into an unholy terror called the Green Goblin contemptuous of humanity and very much insane. STRONG comic chops and strong character voice.
[J. JONAH JAMESON] Male, 50s. Brash, stubborn, and a throwback from another era, the mustachioed, cigar-chomping, tyrannical publisher of the Daily Bugle is always after the headline that will sell more papers. He is unrelenting in his hatred for Spider-Man, whom he sees as a vigilante and a bane to NYC. Need STRONG comic chops.
[GEEK CHORUS] Three teenage boys and one girl who meet to ritualistically retell the greatest Spider-Man stories. They have encyclopedic knowledge of the last forty years of Spider-Man comic books. They are inveterate role-playing, over-enthusiastic, idealistic, air-guitar-wielding, argumentative, earnest, hyper-serious geeks. Strong comic chops and strong singing voices. Any ethnicity.