Contest: Gamebox 1.0 On DVD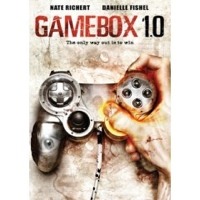 Gamebox 1.0 will hit DVD store shelves on April 10th, and we have a copy for one lucky /Film reader. All you need to enter is to e-mail us with the reason why you should win. On April 15th we will e-mail the winner with the best answer. More information on the release can be found after the jump.
Charlie Nash is an expert video game tester whose life has become unbearable after the tragic shooting of his girlfriend Kate.  Finding no comfort in his friends or job, Charlie loses himself in video games.  After receiving a mysterious test game in the mail, he immerses himself in its amazingly realistic, 3-D fantasy universe.  However, Charlie soon learns this virtual world is very real, as he's plunged into a perilous, life-and-death battle against the game from which there is little chance of escape – or survival.  In this pulse-pounding, effects-packed, sci-fi thriller, the only way out is to win.