First Look: The Get Smart Movie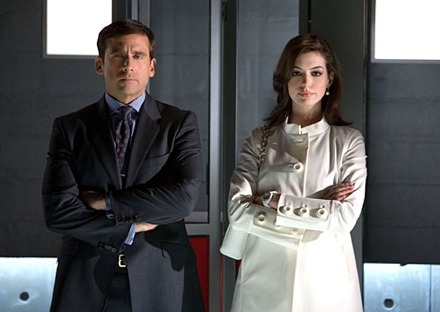 USA Today has released the first production photo, seen above, from the upcoming Get Smart movie starring Steve Carrell and Anne Hathaway. Am I the only one excited about this one? Anyone? Hello?UPDATE: Warner Bros has sent us a HUGE version of the above photo, click here to view it.
Director Peter Segal says that the film version has been updated to satire the disconnect between government agencies post-9/11. The movie's storyline focuses on "KAOS' blackmailing the United States by threatening to give away launch codes for nuclear bombs that are in the hands of bad guys." Max's mission is to find and stop the bombs, ultimately saving the world.
The new film also tells the origin story of how Smart became an agent and met 99. The twist this time around involves Agent 99 as the veteran spy who takes Max under her wing. It looks like Hathaway will be more active as the movie version of 99.
Carell (40 Year Old Virgin) plays Maxwell Smart, and Anne Hathaway (Devil Wears Prada) is Agent 99. Alan Arkin plays the chief of CONTROL, the organization that fights the evil foces of KAOS. Dwayne "The Rock" Johnson (Agent 23) and Terrence Stamp also have been cast.
Get Smart will hit theaters on June 20th 2008.