Casting SAW IV: Justin Louis And Lyriq Bent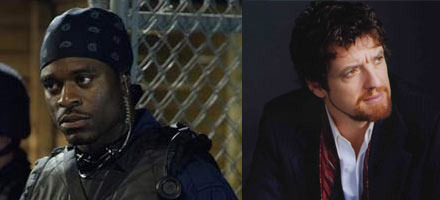 Justin Louis and Lyriq Bent have been cast in SAW IV. Director Darren Lynn Bousman confirmed the casting to BD and JoBlo:
"I am so stoked – one reason I love this franchise is most everyone has come back on the crew. Same Costume team – same props team – same production designer – DP – AD's – basically everyone... At this point it's like one big dysfunctional family... That holds true with the cast. We have some crazy surprises in store for the fans this year. Stuff no one is expected," Bousman told BD.
"Yes Lyriq Bent is in fact returning... He is a great actor – and am very excited to be working with him yet again – on part IV.   The story is much darker – more fucked up – and much more psychological! Oh yeah and there is some blood too!" Bousman told JoBlo.
The movie will center around Bent's character Rigg.
Justin Louis' filmography includes Shooter, The Marsh and Zack Snyder's Dawn of the Dead remake. Bent was in both of the SAW sequels, The Caveman's Valentine  and Four Brothers.
Production begins next week. SAW 4 hits theaters on October 26th 2007.