Contest: Mind Of Mencia Season 2 On DVD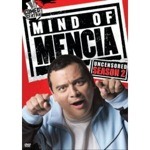 Mind of Mencia Season 2 hit DVD store shelves on April 3rd, and we have a copy for one lucky /Film readers. All you need to enter is to e-mail us with the reason why you should win. On April 10th we will e-mail the winner with the best answer. More information on the release can be found after the jump.
You Think It. He Says It! Carlos Mencia takes no prisoners. In the second season of MIND OF MENCIA, the critically-acclaimed comedian mercilessly skewers the current and the cultural, both in the studio and out in the streets. Watch all fourteen raucous episodes and immerse yourself in Carlos' unique, unflinching take on the world.
Star Power: Carlos Mencia, Mario Lopez, Dave Attell, Peter Boyle, Cheech Marin, Tony Hawk, Jamie Kennedy, Tracy Morgan