Contest: The Good Shepherd On DVD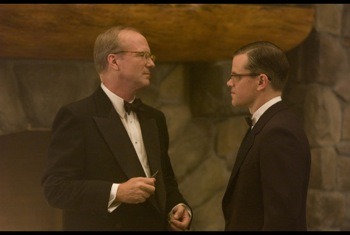 The Good Shepherd  hits DVD store shelves on April 3rd, and we have a copy for one lucky /Film reader. All you need to enter is to e-mail us with the reason why you should win. On April 9th we will e-mail the winner with the best answer. More information on the release can be found after the jump.
Matt Damon, Angelina Jolie and Robert De Niro star in this powerful thriller about the birth of the CIA. Edward Wilson (Damon) believes in America, and will sacrifice everything he loves to protect it. But as one of the covert founders of the CIA, Edward's youthful idealism is slowly eroded by his growing suspicion of the people around him. Everybody has secrets but will Edward's destroy him? With an all-star cast including Alec Baldwin, Billy Crudup, William Hurt, Timothy Hutton and John Turturro, it's the gripping story David Ansen of Newsweek hails as "spellbinding."