Contest: 3 Needles On DVD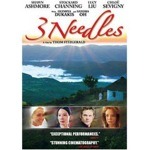 3 Needles will hit DVD store shelves on April 3rd, and we have a copy for two lucky /Film readers. All you need to enter is to e-mail us with the reason why you should win. On April 9th we will e-mail the winners with the best answers. More information on the release can be found after the jump.
In China, Ping (Lucy Liu) is a pregnant young woman running a black market blood collection scam that creates a mini-epidemic in a rural village. In Montreal, Denys (Shawn Ashmore) is a porn actor hiding his positive HIV status in order to continue working and supporting his mother (Stockard Channing), who herself goes to extreme lengths to provide for the family's future. And, in Africa, Sister Clara (Chloe Sevigny) is a young novice nun driven to convert the rapidly dying Africans to Catholicism and makes a desperate bargain with a corrupt plantation owner to help prevent the spread of HIV in the region. Sandra Oh and Olympia Dukakis portray nuns in the same order who accompany her on the journey.