Jack Black To Star In Edgar Wright's THEM?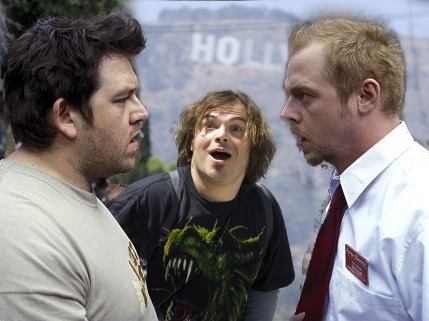 While interviewing screenwriter turned director Mike White (Chuck & Buck, School of Rock, Nacho Libre) about his new movie Year of the Dog, we were able to briefly talk about his upcoming collaboration with Shaun of the Dead and Hot Fuzz director Edgar Wright:
"I'm writing a script with him [Edgar] now. It's like a conspiracy theory comedy horror movie. It's a little bit out of my wheel house and a little bit more in his wheel house. I loved Shaun of the Dead and we talked about writing something together, so once our movies are finally out there and put to bed, we're going to get together and hopefully bang it out."
We asked White when he would work with Jack again, and this is when things got a little interesting:
"This thing with Edgar may very well involve Jack [Black]. Yeah, I would like to keep doing stuff with Jack, he's a good friend of mine."
Jack Black to star in Edgar Wright's Them? What about the Shaun of the Dead guys, Simon Pegg and Nick Frost? What must they think? We asked them.
"If he's going to bring his bitches, you should bring yours," Simon Pegg commented to Wright.
Nick Frost added: "Jack and I will wrestle and we'll see who wins."
When we pressed Edgar about the Black casting rumor, and he responded:
"It's early days, but I'm sure if it happens, Jack will be involved."
And what's THEM about?
"It's based on the Jon Ronson book," explained Wright. "I'm not sure if you've read the book but it's a nonfiction extremists and wild conspiracy theories. And the idea is to set the film in a world where some of these things exist."
Year of the Dog hits theaters on April 13th 2007. Hot Fuzz hits theaters on April 20th 2007.