Keeping Sin City 2's Big Star A Mystery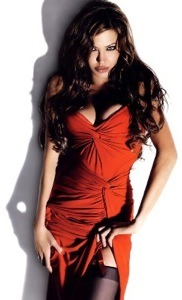 Robert Rodriguez has told the stars of Sin City 2 to not to discuss Angelina Jolie's possible involvement. Jolie has been linked to the project for over a year now. Many people believe the project was delayed due to Jolie's pregnancy.
"The film's been kind of postponed because Robert has been interested in Angelina Jolie for the lead," Rosario Dawson told IGN last year. "But she's very pregnant right now. So that's putting an understandable hold on the film."
A year later Dawson is suddenly mum on the subject of casting:
"The lead actress is going to be absolutely fabulous; but I can't tell you who it is," Dawson told Movies.com. "It's going to be the prequel to my segment in the first one, so you'll understand a little bit more what the argument was between Clive Owen and my character."
In January it was reported that Rachel Weisz might be replacing Jolie as Ava in the film. Nothing has been confirmed. Robert told us that production on the film will begin in June at earliest.