Contest: Black Christmas On DVD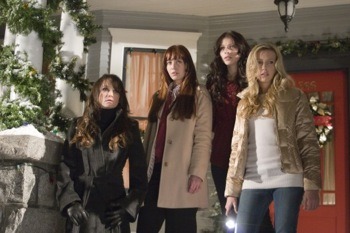 Black Christmas will hit DVD store shelves on April 3rd, and we have a copy for two lucky /Film readers. All you need to enter is to e-mail us with the reason why you should win. On April 7th we will e-mail the winners with the best answers. More information on the release can be found after the jump.
A gruesome re-imagining of the ground-breaking 1974 classic, Black Christmas is written and directed by Glen Morgan (Final Destination 1 & 3) and features an all-star cast of hot, young victims, including Michelle Trachtenberg  (Ice Princess, Eurotrip), Lacey Chabert (Mean Girls, Not Another Teen Movie), Katie Cassidy (When A Stranger Calls, Click) and Mary Elizabeth Winstead (Bobby, Grindhouse).   Fast-paced and viciously frenetic, Black Christmas revisits the brutal and horrific legacy of an escaped murderer who returns home to finish his Christmas killing spree.   But the scene of the crime has changed with the times; his family home is now a sorority house, with an all-new assortment of victims to check off the Naughty list.