Bad Ideas: Disney's Further Adventures In Babysitting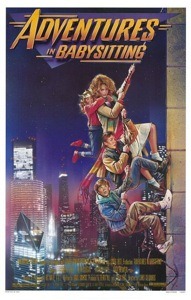 Last July we told you about Disney's plans to ruin the 1980's teen adventure comedy Adventures in Babysitting with a remake starring Raven Symone (That's So Raven, The Cosby Show). We hoped the idea would die or fall into development hell. We prayed day and night, but it looks like the movie is going forward.
Nancy Drew screenwriter Tiffany Paulsen has been hired to scribble that thing they will eventually refer to as the story or script (While I'm still be calling it an abomination). Miley Cyrus (you know, the little girl in Big Fish? Don't recognize her name? Yeah, same here) is also signed on to star. Disney will be calling the new movie "Further Adventures in Babysitting". I say we rerelease the 1987 Chris Columbus film and call it a day.
The original film followed Chris (who was played by Elisabeth Shue) whose big night out is put to a stop when her boyfriend cancels on her. She agrees to babysit for a pre-teen girl and a pubescent boy. She's settled in for a dull night when a girlfriend calls her to say she's marooned at a downtown bus station with very seedy characters around. The three take the parents station wagon for a trip to the inner city.
What is Disney's obsession with remaking and sequalizing classic films for the sake of a few bucks? Oh yeah, a few bucks. I can;t wait for Even More Adventures in Babysitting starring Freddie Prinze Jr., because we know that's right around the corner.