Live Free Or Die Hard Trailer In The Grindhouse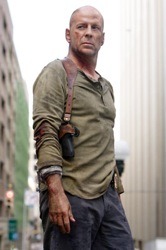 My sources over at Fox are telling me that the full length Live Free or Die Hard movie trailer will be attached to The Weinstein Company's Grindhouse, which also features Bruce Willis.
Since both movies are from totally different companies, I would expect an online premiere on Thursday, but nothing is confirmed. But what is known, you will be able to catch the new Die Hard trailer right before Grindhouse, which hits theaters on April 6th 2007.