Interview With Grindhouse Star Kurt Russell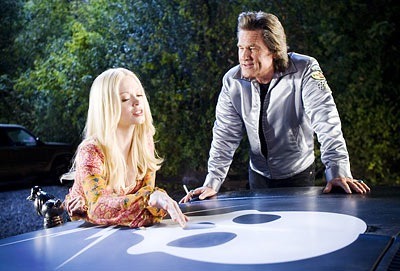 On March 25th, we had the opportunity to talk with most of the stars of Grindhouse. We will be posting the interviews leading up until the film's release on April 6th 2007.
We sat down with Kurt Russell (The Thing, Tombstone, Esacpe from New York) to talk about his role as Stunt Man Mike in Quentin Tarantino's Death Proof. We talked to Russell about fighting women, hard hitting stunts, the Escape from New York remake, Gerard Butler, picking the good projects, family, Quentin, playing the bad guy, his favorite muscle car and much more.
QUESTION: WHAT WAS IT LIKE HAVING THREE WOMEN COMING AT YOU LIKE THAT?
RUSSELL: Well, you hopefully have gotten to a place where the audience wants you to get just that. They want you to get beaten up like that. The day itself is actually probably the toughest day, the physically toughest day because as you probably know because the one who takes the punches is the one who sells it. If you don't sell it, it doesn't pay off and this was supposed to be just an ass whipping, a big whipping. It was about probably seven or eight hours of doing all of these different angles and shots and stuff, but we knew exactly what we wanted to get. But then your neck is going to be sore for a long time.
QUESTION: HOW MUCH FIGHTING DID YOU END UP DOING YOURSELF?
RUSSELL: We did about ninety eight percent of it. I don't turn the car up and crash it in the first scene. I don't do the double jump. I didn't do that.
QUESTION: WHAT ABOUT THE DRIVING?
RUSSELL: All of that stuff. There was some of that bumping and grinding too where we were doing about 90 to a 100 miles an hour. I was doing that. There were some great guys there with Buddy Joe Hooker and Jeff [last name?] setting everything up. Buddy was doing some great driving too. Jeff's wife was doing some great stuff there too, but that's an old time car chase done up right.
QUESTION: NO ONE GOT HURT ON THIS?
RUSSELL: Not really hurt, no. We were all good.
QUESTION: WHAT ABOUT THE SCENE WHERE THE CARS GO INTO HE FREEWAY?
RUSSELL: It's the same. It's just off of freeway. I didn't do that. They did that. They dive off of the end and come onto the freeway.
QUESTION: WHAT TIME OF THE DAY ARE YOU SHOOTING THOSE SCENES?
RUSSELL: Morning to night. Because of the moving sun you would sort of share the time. In other words you would shoot a section and then we'd shoot the girls, and then they would shoot me. They had to keep it for the closing time because you wanted to be able to cut them together and have your sun be in the same place.
QUESTION: WHAT DO YOU THINK ABOUT THE NEW 'ESCAPE FROM NEW YORK' AND WOULD YOU BE WILLING TO TAKE A PART IN THAT?
RUSSELL: If they want to give me $25 million to say hello or something I'll consider that. I think that the motion picture business is not a sacred business and I think that everyone should what they want to do. My standard joke is, 'Oh, my God, wait until stuntman Mike hears about this?' Look, they're going to do their movie. Our movie is there, it's there to be seen. It's always been there and it'll always be there.
QUESTION: WHAT DO YOU THINK ABOUT GERARD BUTLER BEING SNAKE?
RUSSELL: I think that I'm actually, to be honest with you because I've heard this a lot and it's really interesting to see that people care that much about 'Escape from New York,' there is a proprietary sense from the people who love the movie and I think that's interesting to see. My personal take on it is that it's 2007 and I'm doing 'Grindhouse.' That was twenty seven years ago. God, I don't even think about it. It doesn't register. It's like, 'Whatever.' They did some Disney movies that I did, they remade some of those. They did 'Stargate' which turned into the longest running sci-fi television show of all time. They took 'Backdraft' and turned it into two different television series on TV. They're going to redo 'The Thing.' They're going to do a remake of 'Escape from New York' and I'm sure that they'll remake some other movies that I'm done. Whatever.
QUESTION: DOES THAT MEAN YOU PICK A LOT OF GREAT PROJECTS?
RUSSELL: I think that it does. I don't know though. I just like to do the ones that I do and create characters that I think are really fun to play and hopefully are memorable for people to watch. Hopefully they like them and again, my focus is on Stuntman Mike. I think that Stuntman is going to be a memorable characters. He's a standalone character and maybe someday someone will do their Stuntman Mike.
QUESTION: HAS YOUR FAMILY SEEN THIS MOVIE YET?
RUSSELL: No, they haven't. They're kind of spread out right now and so I don't know when or if they'll get a chance to do that. Funny thing about our lives in that regard, we only see or I only see the pictures that I do maybe two times, three times in my life. Other people have the opportunity, like I do with other films, to go see them many times. I've seen 'The Shinning' maybe eight or nine times, and I see that and I didn't really pick up on how much I was going to like it later on. But your own movies, you work hard on them and you do them and then it goes together and then you let it go. You just let it go because that's it. You did it. There it is. It's for everyone else to see. I have the experience of being on the set and creating the thing. I don't have the experience of seeing it fresh and having it mean to me what it means to the audience. I have to try and create that part. So the movies that I do I probably am not much of an audience for because I don't have much of an interest to see them, to be honest with you, after I've done it. I did them and I hope they work and I can appreciate them or not, but then I might see them once again years later and it'll bring back some memories. But I'm one of those people that I look forward in life. I look forward in the now and see what else I'm going to do and see where the chips are going to fall.
QUESTION: HOW IS BEING A GRANDPA THESE DAYS?
RUSSELL: It's cool. He's good. He's just back from Australia. Kate [Hudson] was working on a movie in Australia and she just got back yesterday and so we actually had supper last night with Ryder and Chris. We won't over to see Chris and Ryder at Chris' house.
QUESTION: ALL OF YOU GUYS WERE TOGETHER?
RUSSELL: Just Goldie [Hawn] and me and Ryder and Chris. It was really fun and it was really good to see him.
QUESTION: HOW IS KATE DOING?
RUSSELL: She's been doing good. She's been four or five months, I guess, in Australia.
QUESTION: HOW DOES SHE HANDLE BEING IN THE TABLOIDS ALL THE TIME?
RUSSELL: I'm not going to talk about that.
QUESTION: ARE YOU STILL UP IN VANCOUVER? ALSO, WE HEARD THAT YOU WOULD LAUGH AFTER EVERY SCENE IN THIS FILM.
RUSSELL: We had a ball. We just completely had a ball. I mean, it's a little bit like running away with the circus and the circus being what you think it's supposed to be. You just can't have any more fun than that on the set. It's hard work, but boy is it fun. It was a good day, and then he has his merry band sort of gather together at night and watch the dailies from the day before and you can't help, but get swept up in the fun of that. The fun is at the same level of the work. He really works hard to try and capture what it is he's going after and that is actually kind of rare.
QUESTION: HAVE YOU KNOWN QUENTIN TARANTINO FOR A LONG TIME BEFORE DOING THIS MOVIE?
RUSSELL: I met Quentin years ago. We met at the Academy Awards or something. We spent an hour together or something. I could see that he was a fan of a lot of the movies that I had done [Laughs]. I could see that that was there. And vice versa, I love the stuff he's done too. He's done some great stuff.
QUESTION: DO YOU PREFER TO PLAY NICE GUYS OR SKETCHY/EVIL GUYS LIKE STUNTMAN MIKE?
RUSSELL: You know what it is, it's always fun to play characters that turn the story. That's always a kick because then you have choices as to how you're going to do that and that's a fun thing for an actor to take a hold of. Whether he's a good guy or a bad guy I've never really decided. I didn't get any special pleasure out of plaything the bad guy. I mean, I think that it's often times – well, there are going to be points where you go to work and the day is going to be difficult to try and pull something off as a character because you have to get in there and do it. You have to get in there and do it and the big trick is to sort of just create it and let it happen.
QUESTION: WHAT DO YOU DRAW ON?
RUSSELL: I always just draw on the fact that it's time to go to work. You have to go do it. There is a little panic there. There's that little panic that you can have about certain things. I always feel like you just get in there and it's like you hear that clapper go and you think, 'I have to do this now. I have to just let it go.' That's a fun feeling, letting it go because you don't quite know what's going to come out because that's the thing about making movies – if it doesn't come out or if you feel like it only partially came out, you can do it again and something else will happen. Working with a director like Quentin is fun because he understands that. He understands that and when you capture something that is a little different and right, that's good and we have that on film. We might use it and we might not, but we got it.
QUESTION: WHAT'S NEXT FOR YOU?
RUSSELL: Well, it's funny, we just finished this eight weeks ago. This was very close. We just finished in the middle of January. Usually I take quite a bit of time off and so I haven't really had time yet to go and enjoy myself because we're going into the selling of this movie which I think is fun. What's fun about this movie or what's fun about the 'Grindhouse' thing is that it all goes together. The ad is fun. The coming attractions for fictitious movies are fun. The selling of the movie and the talking about the movie is fun and for you guys too. I can tell. I can feel that. It's like, 'Yeah, this is something that hasn't been done.' It's a new thing and it's being done by the right people and by that I mean Quentin and Robert [Rodriguez]. I think that they're perfect choices if we could all make this choice. If we had come up with the idea to do this today, sitting around the table, we would go, 'Remember those movies? We go through it and see the ads. If we wanted to do a really great tribute to that who would you want to direct them?' I think that everyone would go, 'Tarantino!' 'What about the other one?' 'Robert Rodriguez? He'd be good.' You might throw a couple of names out there, but Tarantino's name is going to fly out there for sure, and that's what is sort of fun about this whole experience, doing it for the right smell and the right sound and everything. It feels good.
QUESTION: DO YOU HAVE A FAVORITE MUSCLE CAR?
RUSSELL: I have just sort of begun to see them. I never like the orange Charge. I just thought that it was dumb, but I love my Charger. I think the flat black Charger is awesome. I think that it's just awesome with a hot engine and some good muscle. It just looks like a bad deal. The Challenger is okay and it's kind of deceiving because it's like the hottest car ever in terms of movies. I know the Barracuda is pretty cool. The Camero is not from that time and then the Nova. Still though, back when it was happening and I was a kid it was the GTO. That was the street car that you wanted. If you could afford that, that was the car that you had. Now, in movies the GTO never became the it care. The Challenger and the Charger did. So, I'll take mine. Listen, Tarantino would not have put me in anything, but the shit. So that's the black Charger. I think that's the car. I liked the way ours was. It's just pretty awesome.
Grindhouse hits theaters on April 6th 2007.