Contest: Candy On DVD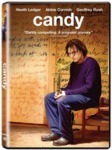 Candy will hit DVD store shelves on March 27th, and we have a copy for three lucky /Film readers. All you need to enter is to e-mail us with the reason why you should win. On March 30th we will e-mail the winners with the best answers. More information on the release can be found after the jump.
- Elle
"Elliptical and understated-and therefore gets more nightmarish creepiness across than any sequence in Requiem for a Dream."
- SPIN
"Ledger gives a ferociously raw and poignant performance, in this skilful, stunning film that explores the very depths and power of addiction."
- DarkHorizons.com
TORONTO (March 2, 2006) â€" The critically acclaimed film based on the powerful best-selling novel by Luke Davies, Candy will be available on DVD March 27, 2007 from THINKFilm.  Released in theaters in 2006, the film features an outstanding cast including Oscar® nominated Heath Ledger (Upcoming The Dark Knight, Brokeback Mountain), Oscar® winner Geoffrey Rush (Pirates of the Carribean, Munich, Shine) and Aussie beauty Abbie Cornish (Upcoming The Golden Age, Ridley Scott's A Good Year).  The film was honored with eight nominations by the Film Critics of Australia Awards in 2006 for Best Film, Best Director (Neil Armfield), Best Actor (Ledger), Best Actress (Cornish), Best Supporting Actor (Rush), Best Supporting Actress (Noni Hazlehurst, Little Fish), Best Adapted Screenplay and Best Music Score.  The DVD will be available for $27.98 SRP, with a pre-order date of March 1, 2007.
"This dramatic, intensely realistic film stars two of today's hottest and most talked about young actors. Abbie Cornish and Heath Ledger have an on-screen chemistry that is absolutely mesmerizing," said Jeff Sackman, President of THINKFilm.  "An exceptional cautionary tale, Candy enraptures its audience from the moment we meet the young lovers and are introduced to their intoxicating lives."
Heath Ledger stars as Dan, a charming but reckless young poet who falls in love with Candy (Abbie Cornish), a beautiful young student who is attracted to his bohemian lifestyle.  In order to get closer to Dan, Candy joins him in his drug addiction.  Their passionate relationship then alternates between bursts of ecstatic oblivion and bouts of despair and self-destruction.  Hooked as much on heroin as one another, their story becomes an intense love triangle â€" a boy, a girl and a drug.
DVD extra features include *:
-Â Â Â Â Â Â Â Â Â  Filmmaker Commentary
-Â Â Â Â Â Â Â Â Â  "The Making of Candy" Featurette
-Â Â Â Â Â Â Â Â Â  Trailer Gallery