Paul W.S. Anderson Leaves Castlevania And Goes On A Death Race Instead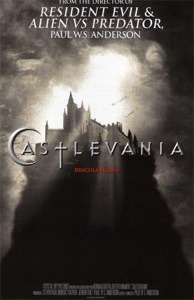 Paul W.S. Anderson will no longer be writing or directing Rogue Pictures' adaptation of the classic Dracula video game series Castlevania. According to Dread Central, the director will instead turn his concentration to Death Race 3000, the remake of Death Race 2000.
A teaser poster, seen left, for Castlevania had even been displayed at the 2006 American Film Market.
Dimension Films supposedly dropped the project after they failed to embrace Anderson's script which spanned many time periods. Most of the action was to take place in 15th century Transylvania.
Anderson (not to be confused with PT Anderson) is considered a hack director within the business. Next to Uwe Boll (House of the Dead), Anderson is probably second for worst video game adaptations.