Movie Review: Reign Over Me Is Endearing And Emotional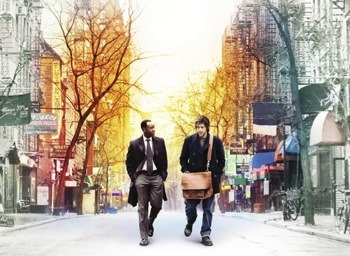 I find it quite amusing that not even a year ago, people were heated over the concept of a movie that involves September 11th. And now an Adam Sandler movie is flying under all the radar. Is it a sign of the times, or do people just have short-term memories and small attention spans?
Reign Over Me, taken from The Who song of the same name, follows Alan Johnson (Don Cheadle), a married dentist who bumps into Charlie Fineman (Adam Sandler) a former college roommate, who lost his wife and children in the 9/11 attacks. Once a successful dentist, Charlie has retreated into his apartment where he plays video games (Shadows of Colossus) and has been working to remodel his kitchen. He wonders alone, floating on his motorized scooter through the streets of New York City. Reign Over Me is about their rekindled friendship.
Mike Binder has never been a subtle director. He's created conceptual comedies and dramas with immense emotion. His last movie, Man About Town, went direct-to-DVD. So entering into Reign Over Me, I expected a big obvious Hollywood drama. But Binder turned out a surprisingly deep Hollywood film.
Reign Over Me is filled with heartbreakingly emotional and endearing moments. And most importantly, it never crosses the line into melodrama. It's a wonderful tearjerker about living with grief and learning to move on. Sandler gives the best performance of his career.
Some may be angered that the story doesn't exactly go where you think or want it to. But in the end, everything comes together almost perfectly.
My only real complaint lies in the casting of Liv Tyler. Tyler's cute and charming performance is good enough for most romantic comedies, but I just found her hard to believe as a young psychiatrist. Director Mike Binder, who just can't seem to stay behind the camera, has a supporting performance as Fineman's old friend, Bryan Sugarman. Usually I find him somewhat irritating, but in Reign he found just the right balance.
/Film Rating: 7.5 out of 10