Eagle Vs. Shark Production Photos And Movie Poster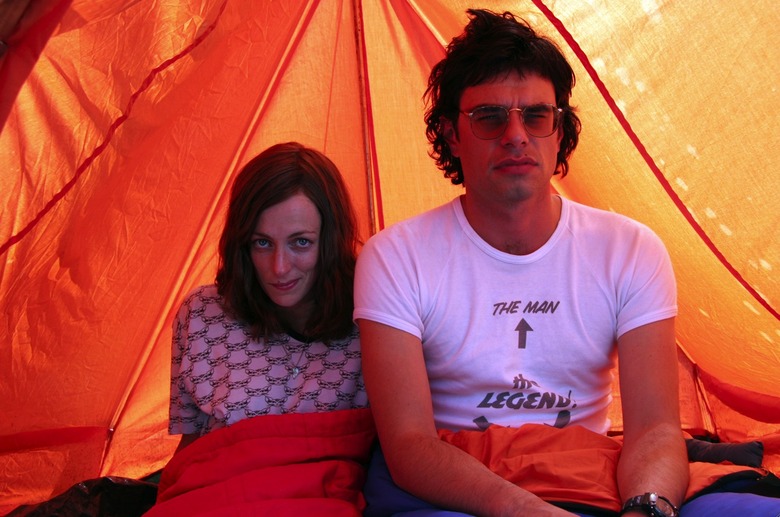 A couple days ago, we brought you the movie trailer. Today we have a few new stills and the official plot synopsis for Miramax's Eagle vs. Shark. I can't say enough how much I dug this film. It's Little Miss Sunshine meets Napoleon Dynamite.
Here is the new theatrical poster:
I kinda prefered the Sundance version with the sleeping bags more. This one looks a little too indie, and most people easily skip over lower budget films.
First up are the photos. As always, left click for a better look.
Jemaine Clement as JARROD (left) and Loren Horsley as LILY (right) in EAGLE VS. SHARK.
Jemaine Clement as JARROD (left) and Loren Horsley as LILY (right) in EAGLE VS. SHARK.
Director Taiki Waititi (center) with Loren Horsley as LILY (left) and Jemaine Clement as JARROD (right) on the set of EAGLE VS. SHARK.
And here is Miramax's official plot synopsis:
From New Zealand comes a wickedly offbeat love story â€" a funny, fractured romance between two total misfits, woven into an all-consuming quest for revenge, and shot through with the strange, sweet hilarity of the human condition. EAGLE vs. SHARK introduces the original and delightfully different vision of writer-director Taika Waititi, a young Kiwi comic star, who won an Academy Award® nomination for his short film "Two Cars, One Night," which premiered to acclaim at the 2004 Sundance Film Festival.
It all begins with Lily (LOREN HORSLEY), a lonely oddball and fast-food waitress who happens to be a hopeless romantic. Then there's Jarrod (JEMAINE CLEMENT), the man of Lily's dreams, another lonely oddball and video game clerk, who has spent the last decade plotting ultimate vengeance on a bully from his high school past.
When these two connect at a "dress as your favorite animal" party, she's an anemic Shark and he's a fluffy-headed Eagle. It's a match that seems made in outcast heaven, but when Lily decides to risk everything for love, her hopes are nearly dashed. After a brief fling, Jarrod dumps Lily because he's too busy "training" for his all-important payback mission. But neither of them can anticipate just what kind of grit the steadfastly optimistic Lily will show in her heartbreak. As Jarrod's day of reckoning arrives, and everything hits the fan, Jarrod and Lily will find something that goes beyond romantic fantasies and revenge — faith in who they are.
EAGLE vs. SHARK is written and directed by Taika Waititi. The film is produced by Ainsley Gardiner and Cliff Curtis and executive produced by Emanuel Michael. The cast of New Zealanders includes Loren Horsley, Jemaine Clement, Craig Hall, Rachel House, Brian Sergent and Joel Tobeck. The film is set to the mesmerizing sounds of rising New Zealand pop artists The Phoenix Foundation.Eagle vs. Shark hits theaters on June 1st 2007.
Photo credits: Matt Grace/Courtesy of Miramax Films.