Escape From New York Prequel?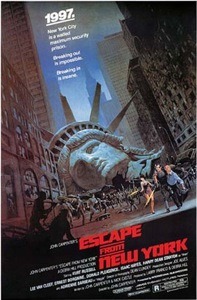 Last week we reported that New Line Cinema had won rights to remake Escape From New York with 300 star Gerard Butler attached to star. John Carpenter believes the new movie might actually be a PREQUEL.
"I don't know that it's a remake," Carpenter told SuicideGirls.com. "I think it's a lot about Snake before he gets to New York."
And John would know. As an executive producer on the new movie, he has read the screenplays.
"My main involvement is I read the scripts and make sure the character is the same character that we wrote originally. I think that would be cool. My other main involvement in this project is to extend my hand and have a check placed in it."
Butler would play Snake Plissken, the one-eyed convict who must rescue the President of the United States from an inescapable maximum security prison formerly known as Manhattan. The film was set in a dystopian then-future 1997. Kurt Russell originated the role.
Carpenter also speculates that the Snake Plissken character will "probably be reinvented for his time. But we'll see. I don't know if he will be mullet-less or with the mullet."