Tom Cruise Vs. Adolf Hitler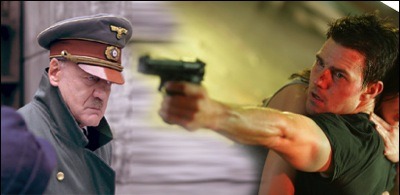 Tom Cruise will star in the just announced Bryan Singer-directed World War II drama.
Cruise and producing partner Paula Wagner acquired rights to produce the film last week for the new United Artists. The Usual Suspects screenwriter Chris McQuarrie wrote the script with Nathan Alexander. Singer was able to fit this movie in before production of the Superman Returns sequel begins in March 2008.
Cruise wasn't initially interesting in starring in the film, but director Bryan Singer pursued the War of the Worlds star in subsequent meetings. Cruise finally agreed to star in the film on Tuesday.
Variety finally sheds some light on the until now, undiscussed plot:
"The thriller is based on actual events, as German generals hatch a scheme to assassinate Adolph Hitler at the height of WWII."
Sounds interesting. I know the whole world seems to be pretty down on Cruise the last few years, but I still contend that he is one of the better blockbuster actors working today. I can't wait.