Southland Tales: New Concept Art, Production Photos, Visual Effects FOOTAGE And Release Date Debunked

New production stills and concept drawings from Richard Kelly's Southland Tales have made their way onto the internet. We have a look at them below, but be warned, there are spoilers. As always, left click for higher resolution.
Also Note: Universal International has an April 2007 release date listed on their website, but this is not true. Richard Kelly says the film will probably be done in time for a Summer or Fall release at best.
"It's a error made by the site," says Kelly. "The film is not complete, nor will it be by then".
IESB posted the following new production photos:
Martin Mercer posted the following concept art photos:
Riot Cop:
2008 UPU Car
UPU Tank
War of the Homeless
Mega-Zeppelin Airship Explodes
Thug Riot Storyboards: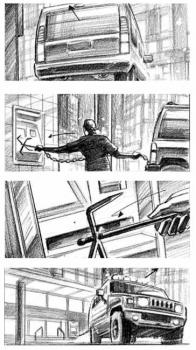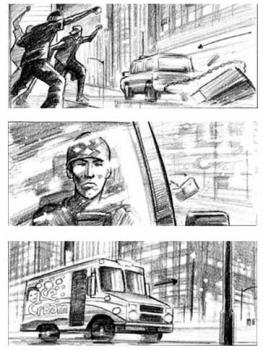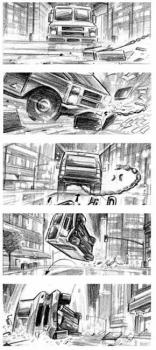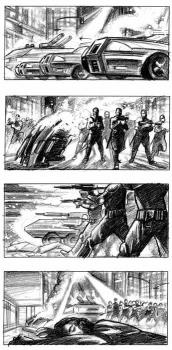 Here is the plot synopsis: This futuristic film evokes the city of Los Angeles, after the Texas cities of El Paso and Abilene have fallen victim to twin nuclear attacks on July 4th, 2005, a catastrophe of unimaginable proportions which precipitates America into war. The Patriot Act has been upgraded to a new agency known as USIdent which keeps constant tabs on citizens even to the extent of censoring the internet and using fingerprints in order to access computers and bank accounts. In order to be able to respond to the fuel scarcity, the German company Treer designs a generator of inexhaustible energy which operates thanks to ocean currents. In this city on the brink of chaos, we follow the criss-crossed destinies of Boxer Santaros (Dwayne Johnson), action film actor stricken with amnesia; Krysta Now (Sarah Michelle Gellar), ex-porn star in the midst of reconverting; and twin brothers Roland and Ronald Taverner (both played by Seann William Scott), whose destinies becomes confused with that of all mankind.