New Ratatouille Movie Trailer And Photo Still Revealed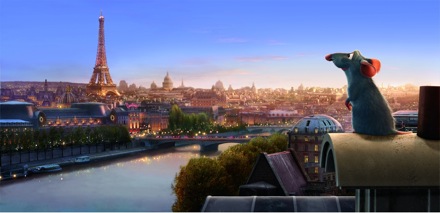 We didn't post this last week when it leaked on to YouTube, but now that the official Japanese Ratatouille Movie Trailer is now live on Disney.co.jp in Quicktime, what's to stop us? And we also have a new unreleased Ratatouille photo still and updated plot synopsis.
Click on the still above for a VERY VERY high resolution version. Makes you wonder how many computers it took to process that impressive landscape. The image shows the main character Remy, looking over the beautiful Paris skyline. It even appears that they made paris look like a painting. Located just across the Seine, right in front of the Eiffel Tower, lies Gusteau's restaurant, one of Paris' most exclusive restaurants, where Remy's tale unfolds.
Check out the full length trailer at Disney.co.jp. It has english audio set to Japanese subtitles. This gives you a good indication of what the American trailer (which hits the web on Friday) will look like.
We also have a new plot synopsis direct from Disney:
RatatouilleDirector: Brad BirdProducer: Brad LewisVoice Talent: Patton Oswalt, Brian Dennehy, Brad Garrett, Janeane Garofalo, Ian Holm, Peter O'TooleAcademy Award®-winning director Brad Bird ("The Incredibles") and the amazing storytellers at Pixar Animation Studios ("Cars," "Finding Nemo") take you into an entirely new and original world where the unthinkable combination of a rat and a 5-star gourmet restaurant come together for the ultimate fish-out-of-water tale.In the hilarious new animated-adventure, RATATOUILLE, a rat named Remy dreams of becoming a great chef despite his family's wishes and the obvious problem of being a rat in a decidedly rodent-phobic profession.  When fate places Remy in the city of Paris, he finds himself ideally situated beneath a restaurant made famous by his culinary hero, Auguste Gusteau.  Despite the apparent dangers of being an unwanted visitor in the kitchen at one of Paris' most exclusive restaurants, Remy forms an unlikely partnership with Linguini, the garbage boy, who inadvertently discovers Remy's amazing talents. They strike a deal, ultimately setting into motion a hilarious and exciting chain of extraordinary events that turns the culinary world of Paris upside down.Remy finds himself torn between following his dreams or returning forever to his previous existence as a rat.  He learns the truth about friendship, family and having no choice but to be who he really is, a rat who wants to be a chef.