Contest: Harsh Times On DVD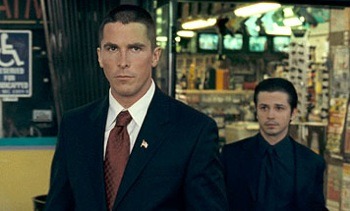 Harsh Times hit DVD storeshelves on March 13th, and we have a copy for two lucky /Film readers. All you need to enter is to e-mail us with the reason why you should win. On March 20th we will e-mail the winners with the best answers. More information on the release can be found after the jump.
Returning to South Central Los Angeles, Bale stars as a ex-Middle East soldier who struggles to re-enter civilian society and, unable to get a job with the LAPD, drifts into a life of petty crime, drugs, and violence.
The film marks the directorial debut of writer David Ayer (Training Day, The Fast And The Furious) and features a chilling, tour-de-force performance from Christian Bale (Batman Begins, The Prestige) as a trained killer in an explosive world of guns and drugs, loyalty and revenge. Set against the urban backdrop of South Central Los Angeles, the Harsh Times features powerhouse performances from its supporting cast, including Eva Longoria (The Sentinel, "Desperate Housewives") and Freddy Rodriguez (Bobby, "Six Feet Under"). The DVD includes seven deleted scenes and feature commentary by writer, producer, director David Ayer.