First Photo From The Invasion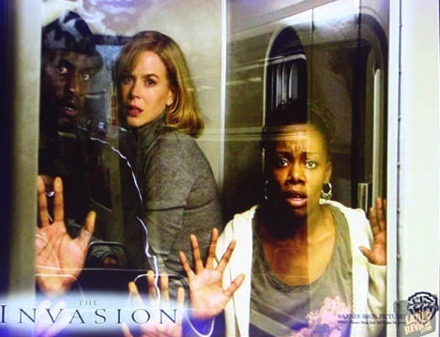 Yesterday we had a look at a scientific short film which may be used in the upcoming Invasion of the Body Snatchers remake. Today we bring you the first production still, direct from ShoWest.
The above photo shows Nicole Kidman as Carol, with two unidentified actors looking out the window at, one can only assume, some kind of alien invasion. We also get our first glimpse at the film's logo, which looks exactly how we would expect it to look.
The official synopsis reads: "A mysterious epidemic is sweeping the world, but it takes one Washington DC psychiatrist (Kidman) to discover that the disease is extraterrestrial in origin. When her son (Jackson Bond) becomes infected, she and a colleague (Daniel Craig) must work together to find a cure, before the entire world is lost..."
The Invasion will hit theaters on August 17th 2007.