Escape From New York Remake To Star Gerard Butler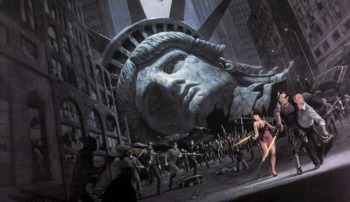 CAA is shopping a remake of John Carpenter's 1981 action classic Escape From New York with 300 star Gerard Butler attached to star.
Butler would play Snake Plissken, the one-eyed convict who must rescue the President of the United States from an inescapable maximum security prison formerly known as Manhattan. The film was set in a dystopian then-future 1997. Kurt Russell originated the role. The 1996 sequel Escape to L.A. was not as popular.
According to Variety, several studios are battling to make the project. A deal is expected to be made this week.
Black Hawk Down scribe Ken Nolan writing the screenplay.
I'm not sure what to think of this. When I re-watched the film a few months back, I thought to myself: "This could make a great big budget hollywood remake." But who knows. However, I would rather see someone like The Rock or Vin Diesel play Plissken. I think it all depends on the director. This would be perfect for Michael Bay.
Did You Know: Snake Plissken was the inspiration for Solid Snake, hero of the Metal Gear series, and the plot was also the inspiration for Metal Gear 2: Solid Snake (sneak into an indomitable fortress to rescue a VIP and an important tape/cartridge that determines the fate of the world). Furthermore, in Metal Gear Solid 2: Sons of Liberty, Solid Snake goes by the alias of Iroquois Pliskin. Metal Gear also uses the same font in its logo for the first game as Escape From New York.