The Buzz: The Host Is A Thrilling Thinking-Person's Monster Movie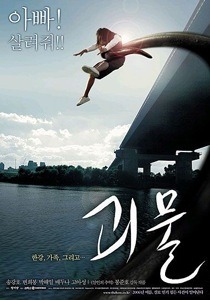 The Host
Director: Bong Joon-HoStarring: Song Kang-ho, Scott Wilson, Byun Hee-Bong, Park Hae-il, and Bae DoonaRunning Time: 119 minutesMPAA Rating: R for creature violence and languageBuzz Rating:
9 out of 10
The Good:
"A thrilling ride and a sometimes dry, sometimes sweet comedy, but beneath all that is a humane and tragic view of life worthy of the greatest films. Even those without rubber monsters."
Andrew O'Hehir, Salon.com
"[This] wildly entertaining saga should become the hip, thinking-person's monster movie of choice."
Lisa Schwarzbaum, Entertainment Weekly
"One of the freshest monster movies we've had in decades — and, to any creature-feature buff, a rocket-ride blast of the highest order."
James Rocchi, Cinematical
"Both smashing entertainment and snarky geopolitical allegory, this Godzilla vs. Little Miss Sunshine is the wildest and weirdest movie to hit screens in quite some time."
Sean Burns, Philadelphia Weekly
"The Host evolves into that rare horror film that becomes inconsolably poignant."
Kevin Courrier, Boxoffice Magazine
"This Korean-made film takes the well-worn creature-feature genre and spins it on its head thrillingly."
Claudia Puig, USA Today
The Bad:
Not Available